Unfortunately that realisation was not an option last Saturday at ANZ Stadium. Aussie fans could only watch in disbelief. Was this carnage really happening? The scoreboard read 32-3 at half-time and to add further pain, three backline stars were struck down with game ending injuries.
Yes folks, it was Rugby's version of a real time horror movie...Shockin' us right out of our brains.
So how can the Wallabies repair the damage to keep the Bledisloe Cup alive?


First priority is defence after the Men in Gold missed 38 tackles. You could count Australia's dominant tackles on one hand. Because the All Blacks stood deep in attack, the Men in Gold could not land the big shots and stymie the offloads.
NZ cleverly compressed Australia's defence, often utilising long passes but always running straight. This committed and held numbers of tacklers which in turn created overlaps in the tramlines. The AB's targeted Dane Haylett-Petty's lack of game time on the wing.
Defence Remedy
Better line speed, genuine conviction and much better communication will go a long way to addressing Australia's problems. A split second gained in execution by the tackler can make or break a try scoring movement. However using two sweepers plus fullback only hands NZ an overlap.


Steve Hansen's All Blacks prioritise turnover ball, whether from breakdown or set piece, and that is where they do most damage. The ball is always quickly shifted into space to take advantage of disorganised defence. That is a given but time and again the Wallabies were too slow to react.
The Kiwis also view kick receipts as a brilliant counter attacking option for their back three. Israel Dagg will always run it back to size up options across the field. That is why Australia's defensive line chasers need to come up in a cohesive, impregnable wall. None of this is rocket science.

Australia was a bit like the racehorse that stayed in the starting stalls. Did all the hard work on the training pitch leave them mentally sluggish and leg weary? The ease of NZ's first try despite Australia's positive defensive numbers, followed by the Matt Giteau injury, visibly rattled the home team.

The players did not regain composure until the two benches came into play in the second half. Mental toughness has been Michael Cheika's mantra but even he admitted his players lost their way after the early setbacks. Cool heads and strong leadership from senior players has to be paramount this weekend.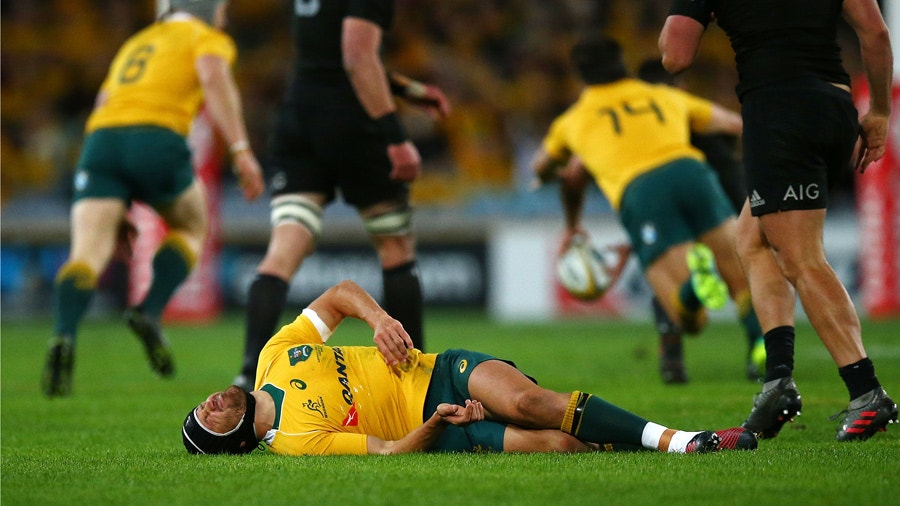 Rejuvenate the Attack
By necessity, Australia's attack will go back to basics to focus on building pressure. As TEN expert Nathan Sharpe pointed out, the Wallabies scored their lone try through a committed conventional build-up which got in behind the NZ defence. Turn the tables and get NZ on the back foot.
Yes, it will take time for new skills coach Mick Byrne to impact and improve the way Australia executes under pressure. Suffice to say the Wallaby attack never found its mojo and tried in vain to take on the heavy artillery close to the ruck. When they went wide there was no real conviction, just a sideways drift.

Changes? Quade Cooper is worth a shot which would reinstate the Genia/Cooper half back partnership. The Wallabies know how to employ greater variety in attack. A maturing Cooper can supply a wider passing game to exploit space. His extra length on exit kicks is also needed.

Who Bugged Who?
You would have thought the All Blacks had a bug in the Australian team room judging by the way they picked off our lineout throws. Scott Fardy will surely return to the starting line-up to help address Australia's ongoing woes in this critical source of attacking possession.
The Wallabies kept losing momentum each time Kieran Read or Brodie Retallick stole Australia's feed. Additionally in comparison to their Kiwi counterparts, the Aussie backrow lacked balance and did not function as a unit. Or should I say, was not allowed to. They played as individuals.

David Pocock is still performing his specialist poaching role and was unlucky not to be awarded a couple of extra steals in the first half. That said, Australia's backrow lacked the chemistry and effectiveness of their opposites.

No.7 Sam Cane looks more and more like a Richie McCaw clone every time he steps out in the black jumper. At one point in the 1st half he pushed Pocock who was about to seal at the Aussie breakdown. Cane's action, well off the ball, allowed just enough time for Retallick to pounce and effect a crucial turnover.

Fair play? Absolutely! You take what you can get. Cane, like McCaw, does the hard grafting at the breakdown and knows how to play effectively on the edge of the laws. He doesn't have Ardie Savea's explosive pace but he does ooze leadership and his former national skipper's intuitive reactions under pressure.


The Battle of Wellington
Michael Cheika was wide of the mark when he suggested before Bledisloe I that the All Blacks don't respect the Wallabies. It was a random remark thrown out there by the Aussie coach. He knows only too well that disrespect for your opponent is a recipe for failure.

Doom and gloom has engulfed Australian Rugby after last weekend's horror movie. The players have cocooned themselves from the public negativity because they know it is of their own doing. Only they can set the record straight.


Cheika and Stephen Larkham should consider the final ten minutes of Australia's last victory in Wellington back in 2000 as compulsory viewing for their charges in the build-up. That come-from-behind triumph was all about a never-say-die attitude even though the odds were heavily stacked against the Wallabies in the dying moments.
When John Eales stepped up for the winning penalty goal that day, he took ownership of the outcome. Sixteen years on, perhaps there is an opportunity before the match to revisit that occasion and even request some appropriate words of wisdom from the dual World Cup winner. Now that would be inspirational.

Gordon Bray will be joined by experts Matt Burke and Nathan Sharpe and hosts Matt White and Scott Mackinnon for TEN'S live telecast 5.00pm also on Ten HD and tenplay