Thankfully the Men in Gold have distanced themselves from any talk of their six game losing streak. The focus instead is on the detail, getting the process right.

Champion flanker David Pocock made that point strongly in the buildup. Winning was not the issue he explained. "It is about executing what we need to do."

The return to Suncorp Stadium and a parochial home crowd will help ease any jangling nerves. The Springboks have won just one of their last ten Wallaby tests in Brisbane.

Throw in the unique understanding and re-emerging skillset of favourite sons Will Genia and Quade Cooper and you have a readymade springboard for redemption.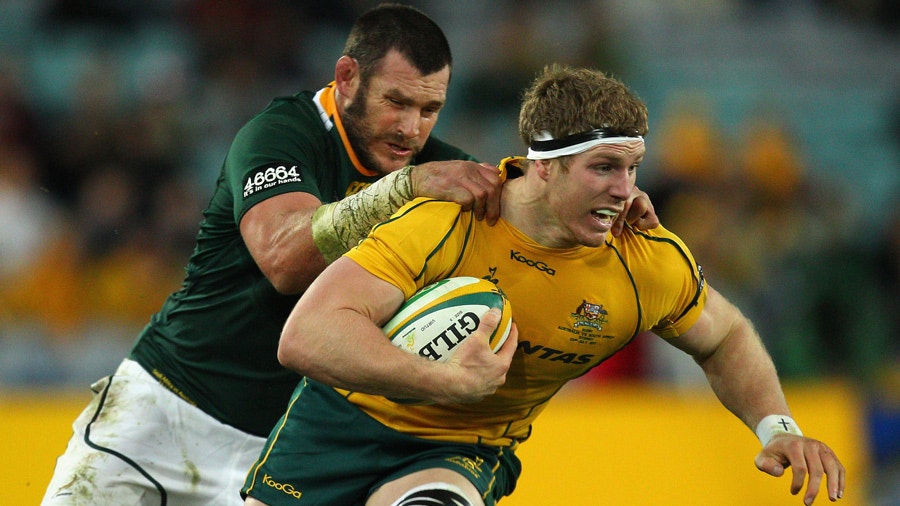 Foundation For Victory
So what's in the process Pocock refers to? Let us start with the three 'C's' - Clarity, Communication and Concentration. You can bet the Wallaby coaches have been hammering these points home.

On the question of Clarity, Aussie fans have come to expect positive decision making. It is the hallmark of the All Blacks' game.

So as an absolute priority, don't waste turnover ball when the opposition defence is in disarray. If the attack structure is in place, the ball in hand strike is on from any part of the field.

Communication in defence has not been a strong suit. The frenetic pace of NZ's attacking strategy caught the Wallabies out time and again and a review of the first try in Wellington makes painful viewing.

Australia had five defenders on the blindside marking two attackers. No surprise then that the AB's had four men over when Israel Dagg scored on the opposite side of the field.

Finally the question of Concentration is multi-faceted. But let's address the most agonizing issue for coach Michael Cheika. It is a back-breaker called 'conceding a penalty on attack'.

The offences have centered around the following areas: Players entering on the side of a tackle, inaccurate cleanout at the breakdown and disciplinary issues such as retaliation.

As Genia pointed out, the Wallabies have not been able to build any momentum against the All Blacks because possession has rarely been retained beyond a few phases. Lineout and scrum have faltered.
Change The Wallaby Jumper
At this point I would like to sidetrack briefly and hoist a hand grenade.

When the Wallabies play NZ next month in Auckland, they should wear dark green jerseys. Why? Because black jerseys are less conspicuous than gold in those frantic milliseconds around the breakdown.

Gold jumpers radiate like a spotlight. It is an optical fact that gold is a much more dominant colour than black. As a consequence the Kiwis often avoid detection when they cleanout from the side of a tackle or ruck. David Pocock has the bruised ribs to prove it!

Perhaps we should consider enforcing serial offenders in the understated jersey colours to wear a flashing light on their jumper as a form of punishment.

Beware Springbok Power and Pace
All the more reason why the Wallabies must be on their best behavior against the dark green clad men from South Africa this weekend.

Like Australia, the Boks are enduring a transition phase in their rebuild but still have the firepower to expose any frailties in their opponents.

Twin towers Lood de Jager and Eben Etzebeth are world class locks and will further test Australia's lineout stability. They don't hold back in defence and can run like giraffes.

The great Bryan Habana is a global rugby treasure. He has surpassed David Campese as the leading tryscorer (65) and showed in Salta that his blinding pace poses a big danger.

Although the Boks were 1-1 against the Argentine Pumas, their intimidating physicality, sheer passion and desire to win were never in question.

In both games South Africa came from 23-13 down in the second half to hit the lead late. Only a last minute penalty goal by the Pumas, who finished 4th at last year's Rugby World Cup, denied them in Salta.

D Day has arrived for the Wallabies. However, if they are to hit and surprise where least expected, just like the Allied Forces, they must first master those basics of Clarity, Communication and Concentration.

Gordon Bray will be joined by Wallaby greats Matt Burke and Nathan Sharpe and hosts Matt White and Scott Mackinnon for TEN'S live telecast from 7.30pm also on Ten HD and tenplay