Just twelve months ago the Wallabies adopted Twickenham as their new home, emerging from Rugby World Cup's 'pool of death' with ruthless, clinical efficiency. In the process they booted hosts England, Wales, Scotland and Argentina into touch on their way to the Final.

But since arriving at that ultimate showdown against the All Blacks, the Men in Gold have fallen on hard times. Two wins from their last nine test matches is a painful transcript. Wallaby pride and credibility is again on the line.

The collective ability and potential is evident but the consistency of execution and rhythm is not. Michael Hooper suggested the players may be trying too hard and have become anxious. That certainly appeared the case last weekend when attacking shape faltered when it really counted.

Loftus Versfeld gifted the Springboks a comfort zone in the rarefied atmosphere however this week you could argue that Twickenham will provide the same kind of environment for the Wallabies. The spiritual home of rugby was the stage for our first World Cup triumph in 1991. Twelve months ago it became a home away from home.

Pumas will come to play at speed
That said, this weekend's test is officially a home game for Los Pumas. Despite a solitary win over the Springboks in Salta from their five games, these South Americans have captured hearts and minds across the rugby landscape through their passion, bravery and sense of adventure.

The reality for Michael Cheika and his team is that the Pumas will come to play with fervent self belief.They will not retreat from their frantic commitment and silky running and passing game. This is their chance to show the rugby world how good they really are.

Last weekend in Buenos Aires, they matched the Kiwis for the first half hour with typical vigour and resolve. But then in the space of eleven minutes, the Men in Black swept in four tries, pouncing on mistakes and finishing with extraordinary precision.

Five minutes into the 2nd half, Argentina found itself down 36-3 thanks mainly to the sheer brilliance of the All Blacks. However to the Pumas immense credit they won the next 35 minutes by 14-0 scoring two converted tries.

In last year's World Cup Semi Final against Australia, Argentina lost the game in the opening quarter. They were guilty as charged again in Perth three weeks ago when stumbling out of the blocks conceding three early tries against a vibrant and very slick Wallaby outfit.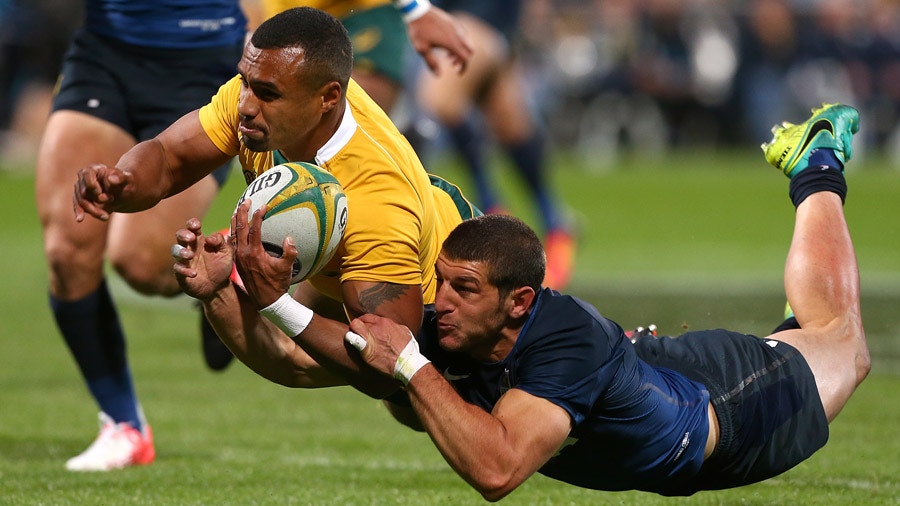 Mental toughness needed says Vince Lombardi
So what happens this weekend if Argentina hits the ground running and finally clicks for eighty minutes? Solution……..another titanic defensive effort required by the Wallabies and a large dose of mental toughness to see off the passionate challenge of Los Pumas.

Legendary NFL coach Vince Lombardi described mental toughness as "a state of mind" that reveals "character in action." Supreme self-denial and sacrifice and the will to never surrender encapsulated his mantra for success at the highest level.

The Wallabies will not step back from their ball-in-hand strategy. But instinct tells us that more than ever they will need to embrace Lombardi's prerequisite of mental toughness. His famous quote follows and is one that applies to every Wallaby player at Twickenham.

"I firmly believe that any man's finest hour, the greatest fulfillment of all that he holds dear, is that moment when he has worked his heart out in a good cause and lies exhausted on the field of battle – victorious."

On last week's evidence in Pretoria, Coach Cheika will be demanding greater accuracy at the breakdown. The Wallaby forwards were often outmuscled and did not consistently move bodies out of the tackle zone. The power of Lopeti Timani is a readymade solution and so is traditional no.8 Leroy Houston.


All Blacks show how it's done
Australia's often ineffective one out running close to the ruck was exploited by the Springbok heavy hitters. On several occasions the carrier lacked momentum, was double tagged and then driven backwards with a turnover ensuing.

Contrast that to the All Blacks in Christchurch who ran onto the ball with pace and double tagged in the cleanout to smash tacklers out of the action area to ensure quick recycling. Their rapid fire defensive line was always in the Pumas face.

The absence through injury of David Pocock and Sean McMahon has forced Australia's hand in the backrow. Timani knocked back a lucrative French opportunity in order to play for the Wallabies. His moment has arrived and he needs time at no.8 in the mould of a Willie Ofahengaue,Toutai Kefu or Cliff Palu.

During last week's commentary on TEN Matthew Burke raised the question of a Wallaby drop goal strategy. It is a very good point. Morne Steyn landed two beauties to sink the Aussies. Drop goals have a devastating impact in tight situations. Think Dan Carter in the Cup Final, Stephen Larkham or Jonnie Wilkinson.

Hopefully Bernard Foley and Quade Cooper are practising on either foot. You never know, a match clincher could well be required to separate the teams this weekend.

The Wallabies shot themselves in the foot at Pretoria. They failed to go for the jugular but have an excellent shot at redemption. In Lombardi speak, by the final whistle Australia simply has to work their hearts out in order to be exhausted and victorious.

Gordon Bray will be joined by Wallaby great Matt Burke and host Scott Mackinnon for Saturday night's live telecast on TEN, TEN HD and tenplay from 5.20 am ADST.