When Kiwi coach Steve Hansen fired his 'bullied Cheika' arrow across the Tasman back in June, the Bledisloe Cup battle lines were drawn.

It was a reference to England's coach Eddie Jones and the way he dominated the media agenda throughout the three test whitewash against the Wallabies. Aussie coach Michael Cheika had simply refused to return fire against his former Randwick teammate.

When asked about the Australia/England series, Hansen couldn't resist the opportunity. If his intention was to kick Cheika and the Wallabies when they were down, then he scored a bullseye.

Bully Barb Hit a Nerve
Cheika retaliated describing the comment as a "potshot" and "shallow". Hooray! The bear had stirred in Camp Wallaby and better still, the verbal sparring between the two head mentors has persisted. Make no mistake, this is personal.

The only time I saw the Wallaby coach bullied as a player was when he turned out as a 20 year old for Randwick against the All Blacks in 1988. However there were extenuating circumstances that day. He was marking revered hard man, the great Buck Shelford.

Team Wallaby has been gifted some motivational material by the Men in Black and instead of being reactive this time, they have deployed their own media agenda designed to cast doubt in opposition minds whilst creating an air of quiet confidence and defiance.

Players say they don't read the papers but in this age of social media, there is nowhere to hide from the volumes of pre match comment and editorial floating around the universe. Does it affect their performance? Probably not. But seeds are still sown in the virtual landscape.

One suspects both camps are having a good chuckle at the mind games between the coaches. The All Blacks have seen it all before. It is part of their winning culture. They call it humility. We call it arrogance but it is well earned. Hansen has lost just 3 of his 57 test matches as head coach.

Wallaby Advantage
Experience is always a huge factor in Bledisloe clashes and on that score New Zealand has had a massive chunk taken out of it armoury. The retirements of McCaw, Carter, Smith and Nonu plus the injury to Sonny Bill Williams has extracted nearly 500 test caps.

Australia on the other hand boasts a lineup very close to their no.1 World Cup team that fully tested NZ in the Final. The Wallabies cruelly lost both Kane Douglas and Matt Giteau that day. Both men are fit and will be jumping out of their skins come Saturday.

The other massive plus for the Wallabies is the acquisition of Michael Byrne as Skills Coach. His presence over the past four weeks has already added a noticeable edge in execution and enthusiasm. His eleven years in the All Blacks' inner sanctum is all upside for Cheika and his team.


Win Over the Referee
It was pleasing to hear that the Wallabies are trying to improve their on field relations with the referees. A lot of crucial calls went against Australia in the England series and a more collaborative approach is needed from Stephen Moore and Michael Hooper.

Both are intense, genuine people who call it as they see it however a more conciliatory appraisal would definitely work in their favour. Less challenge and more appreciation is my recipe.

Expect the Wallabies to employ a smarter kicking approach on Saturday and providing they don't get sucked in to a messy, technical battle at the breakdown, an upset win is definitely on the cards.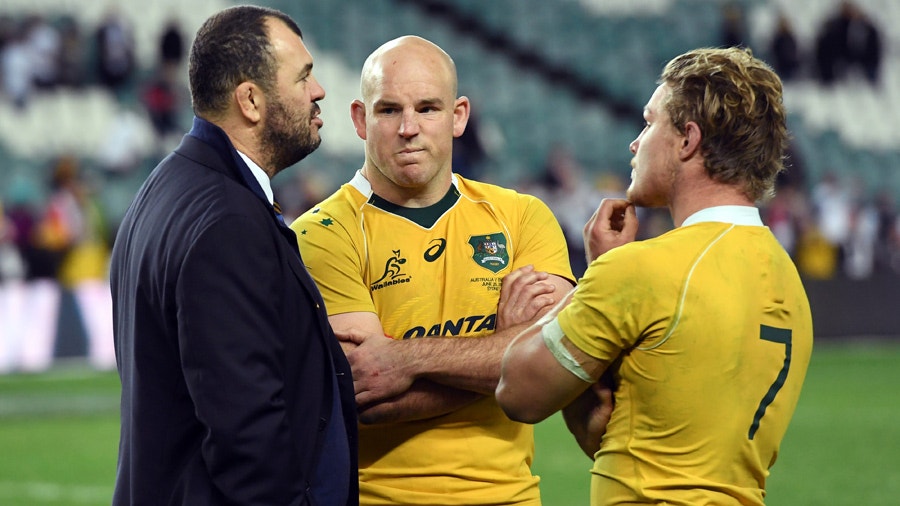 FACT CHECK:
- The All Blacks have lost five World XV players who played in the Rugby World Cup Final against Australia last November – Richie McCaw (148 caps) Dan Carter (112 caps) Ma'a Nonu (103 caps) Conrad Smith ( 94 caps ) – all retired, Sonny Bill Williams (33 caps) – injured.
- Of the 15 tests played between the two countries at ANZ Stadium since 1999, Australia has won 7, NZ 7 and 1 draw.
- The All Blacks have held the Bledisloe Cup since 2003 but are winless in Sydney since 2013.


Gordon Bray will be joined by experts Matt Burke and Nathan Sharpe and hosts Matt White and Scott Mackinnon for TEN'S live telecast 7.30pm also on Ten HD and tenplay