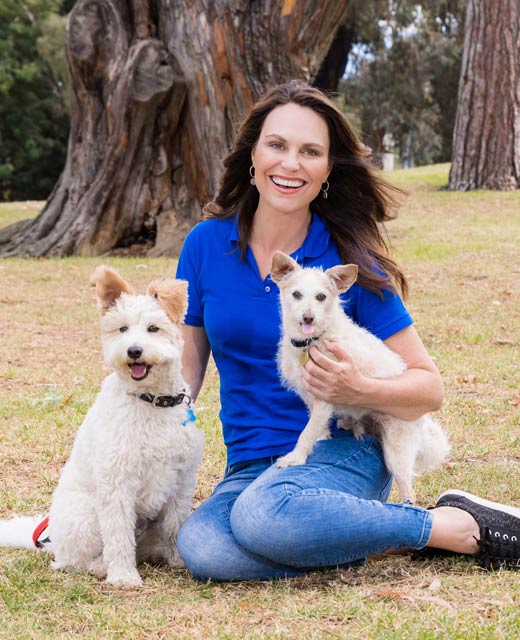 Lara Shannon
As a pet behaviourist, TV presenter, producer and author, Lara is one Australia's most well-known animal welfare advocates and canine experts, reaching millions of Australians each year through her education work to help improve the lives of companion animals.
Starting her career in radio and television in the early 90's, Lara has been the media spokesperson for a number of high profile animal welfare and conservation organisations in Australia and the UK including the World Wide Fund for Nature, Planet Ark, Keep Australia Beautiful, The Orangutan Project, Wildlife Asia and others.
Lara's early television work included regular appearances on Cheez TV, Saturday Disney and Totally Wild, teaching children about wildlife and environmental conservation issues in a fun and engaging way, while her debut documentary Ecochick Adventures: The Trans Borneo Challenge aired on Channel 9 in 2015 to raise awareness of the plight of the Orangutan.
As a certified dog trainer, behaviourist and pet food nutritionist, Lara is both the Executive Producer and Host of Pooches at Play, promoting responsible pet ownership for the benefit of both pets and the people who love them. She is also the co-producer and feature talent in the observational documentary TV series, The Pet Rescuers.
In addition to Pooches at Play, Lara can be seen and heard regularly in the media and presenting at many pet expos, seminars and events throughout the year with the cheeky 'Dynamite Darcy' by her side, while Vindi, her new rescue pup, is still learning the ropes.
An Ambassador for Second Chance Animal Rescue, Pets of the Homeless and the Companion Animal Rescue Awards, Lara's mission is to help reduce the needless euthanasia of adoptable shelter animals to zero.
Lara is the Author of Eat, Play, Love (Your Dog), released in June 2020 by Hardie Grant Publishing and available where all good books are sold across Australia, USA and the UK. Her latest book World of Dogs is due for release in Australia and internationally in October 2021.