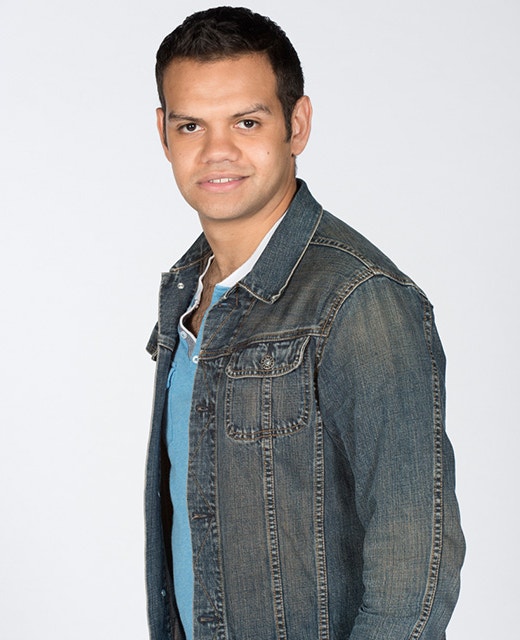 Meyne Wyatt
Nathaniel "Nate" Kinski, early 20s, is from Karratha, WA. His father Leo is the brother of the late Alex Kinski, Susan's second husband.
Although Nate graduated from high school, he was never very academic. After working menial jobs in the mines, Nate joined the army to do something useful – he didn't want to turn out like his going nowhere mates, taking heaps of cash to drive trucks in the mines. He wanted to make a difference. He loved the army, doing two or three tours (about eight months each time) in the infantry in Afghanistan. Nate did heavy service, and was out on patrol.
He quit the army when Australia began to pull out of Afghanistan and has been travelling the world including spending time with his cousin Zeke in London, and then travelling around Australia visiting the people he served with. He's been trying to find direction since he left the army, but nothing really measures up.
Nate's super polite. You could write him off as dull but spend a bit of time with him and you may notice that there is something deep down that you can't quite get to. Something that is mysterious, dangerous, and profoundly damaged. He's a quiet alpha male. He's known he was gay from an early age but it's never been an issue for him or his family.
He arrives in Erinsborough to close a chapter of his life which he guards fiercely from his hosts Karl and Susan Kennedy.
Meyne Wyatt
Kalgoorlie born actor Meyne Wyatt was just 18 when he was accepted into the National Institute of Dramatic Art. Since graduating in 2010, the 24-year-old has worked continually in theatre, film and television, and joined the Neighbours cast as the regular character Nate Kinski in August this year.
Starting with back-to-back theatre productions at the Stables Theatre in 2011, Meyne delivered a truly powerful performance in The Brothers Size. He followed this up with a stand out role as an alienated Aboriginal teen Squid in Griffin Theatre's Silent Disco, for which he was named Best Newcomer in the 2011 Sydney Theatre Awards. From there, he stepped onto the Sydney Theatre Company's main stage in the Stephen Page production of Bloodland and later toured to the Adelaide Festival and OPAC in 2012.
In early 2012, Meyne performed in the Belvoir Street/Urban Theatre Project/Sydney Festival co-production of The Buried City and then embarked on a national tour of Bell Shakespeare's The School for Wives in the lead of Horace. If he wasn't busy enough, he also appeared in the smash hit feature film The Sapphires.
In 2013, Meyne starred in the lead role of Ralph Meyers production of Peter Pan at the Belvoir Street Theatre which toured New York.
His lead role in the acclaimed ABC 1 series, Redfern Now (series 2) earned Meyne nominations for an AACTA Award for Best Actor, The Graham Kennedy Award for Best Newcomer at the 2014 TV Week Logie Awards and a 2014 Equity Ensemble Nomination.
Earlier this year, Meyne was part of the ensemble cast in the Queensland Theatre Company's production of Black Diggers. He then filmed a supporting role in the ABC TV comedy Black Comedy before working on the feature film Strangerland opposite Nicole Kidman, Hugo Weaving, Guy Pearce and Josef Fiennes.