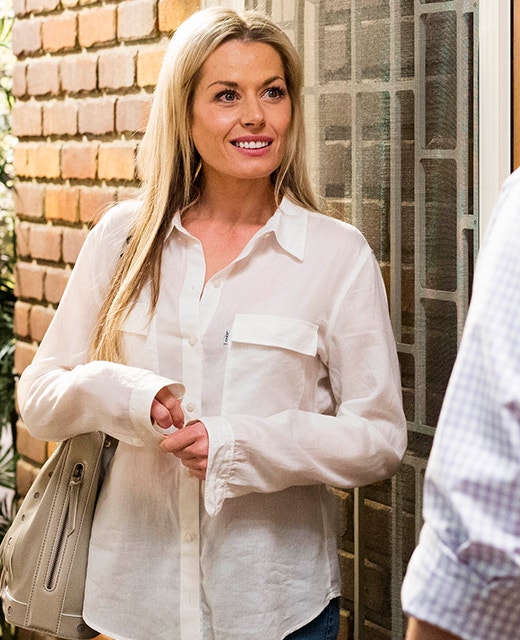 Madeleine West
Andrea Somers is a 30-something woman with a troubled past. The only child of an emotionally abusive single mother, she was forced to develop survival skills at a young age. She learned how to think on the spot and adapt her personality to suit her unstable parent. She became a fantasist, creating delusions in her mind… a habit that continued into her adult life…
Andrea's first love was a man she hoped would rescue her from her miserable working-class existence. Instead, he knocked her up and deserted her. Life in Perth has been a struggle ever since. The one bright light in her world is her daughter Willow, now 15. She loves her.
When Andrea took on a job at a catering company working at the mines, life took an unexpected turn. She met fellow worker Sindi Watts, who told her she was the spitting image of Dee Bliss, a woman she used to know. A casual Google image search revealed to Andrea how right Sindi was. Andrea could be Dee's twin. Further internet digging revealed the story of Dee's happy life and presumed death––as well as something very interesting. The Bliss family estate had never been claimed since all members of the Bliss family were, through various tragedies, dead. Andrea and Sindi became friends and one night, while loosened by a few post-work wines, the two began to speculate about how the Bliss estate money could help them both out of their equally tough financial problems. What if… with Sindi's coaching, Andrea travelled to Erinsborough and convinced Toadie that she was Dee? As a single mum to 15-year-old Willow, who nursed big dreams of going to flying school, the Bliss family money would give Andrea the leg-up she needed. And all Sindi claimed to want for her role in the scam was a $20,000 fee. The plan to bring Dee back from the dead was borne.
Willow – a wise head on young shoulders – has always thought the plan is crazy. But as the debts piled up, Andrea couldn't let the plan go. Yes, it was risky. But as long as she kept her wits about her, she would be fine. Her plan didn't include Willow, but Willow had a very bad feeling about the whole thing. But Andrea wouldn't listen to reason. She sold everything except their beaten-up car and set off, instructing Willow to stay put. But Willow ignored her instruction and followed her mother to Erinsborough, where she quickly found herself unintentionally caught up in the subterfuge.
Madeleine West
Madeleine West came to prominence in the popular, long-running Australian series Neighbours, playing the role of 'Dee Bliss'. For her work in the series, Madeleine was nominated for a Logie Award for Most Popular New Female Talent.
In 2007, Madeleine appeared opposite Debra Messing and Judy Davis in the USA Network miniseries, The Starter Wife. She followed this with a starring role in the Foxtel series Satisfaction, for which she was nominated for a Logie Award for Most Outstanding Actress and an ASTRA Award for Most Outstanding Performance by a Female Actor.
Madeleine starred in the acclaimed 2008 crime drama series Underbelly, for which she earned an AFI Award for Best Supporting Actress in a Television Drama. She reprised her role as 'Danielle McGuire' in the 2014 follow-on series Fat Tony & Co. In 2016, Madeleine appeared as 'Erica Jones' in Ten Network series The Wrong Girl. Her other television credits include House Husbands, Rescue Special Ops, Winners & Losers, City Homicide and Lowdown.
Her feature film credits include Predestination, opposite Ethan Hawke, Save Your Legs!, with Stephen Curry and Brenton Thwaites, Matching Jack, alongside Richard Roxburgh and James Nesbitt, The Condemned and comedy You and Your Stupid Mate.
In May 2016, Madeleine released via Penguin her first book about raising a big family called Six Under Eight, a celebration of the roller coaster ride that is parenting in the modern era.