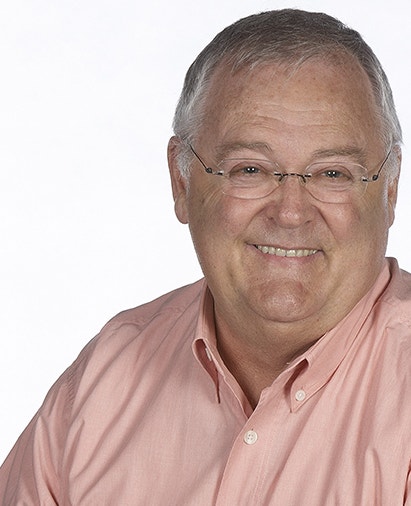 Ian Smith
Harold Bishop, also known as "Ted", "Afro Harold", "Evil Harold" and "Jelly belly", is one of Erinsborough's most respected residents. You will not find a more kind-hearted individual who is always there for you when you need a shoulder to cry on, a place to live when times are tough or when you simply need to borrow that extra egg or teaspoon of sugar… Just don't crash a plane and kill his family or he will strangle you (cough; Paul Robinson), but we don't talk about that…
Harold Wayne Bishop first arrived on Ramsay Street after the death of his first wife, Mavis Bishop. Once he settled into the cul-de-sac, Harold fell for his high school sweetheart Madge, and before long the pair tied the knot in 1988. Their marriage faced several obstacles over the next couple of years, including the departure of Madge's children and the arrival of his troubled daughter Kerry and her subsequent death. Fate threw another spanner into the mix with Harold disappearing at sea and presumed dead in 1991.
But alas! Harold returned, he was now suffering from a form of amnesia and only referred to himself as "Ted". Cruise loving Marlene Kratz brought Harold (Ted), back to Ramsay Street where he was reunited with his love Madge. By 1997 Harold and Madge renewed their vows and their love continued to blossom, with the pair becoming foster parents to Paul and Tad.
By 2001 Harold was to face the toughst time of his life when Madge was diagnosed with terminal cancer, and given only months to live. In what was one of the most heart-wrenching episodes of Neighbours to date, Madge passed away in Harold's arms. Harold struggled with his faith, however the arrival of his granddaughter Sky and son David and his family provided enough drama to keep him on his toes.
After another couple of years of mishaps and tragedy including a stroke, a plane crash and the attempt on Paul's life (really shouldn't be talking about that one), Harold set his sights on traveling around Australia, and by 2008, he and Valda set off. Our beloved hero returned later that year due to a health scare and Karl had the unfortunate task of revealing that Harold had cancer. Ramsay Street rallied around the most loved resident in his hour of need. "The General Store" became "Harold's" which has continued to be the centre point of Erinsborough.
Although Harold has not been seen since his wedding to Caroline in 2011, he has been living life on the road, trading his tuba for the Australian outdoors!
Most memorable moments: Who could forget Harold and Mrs Mangel drunk? We still get tears in our eyes when Harold and Nell slow dance, sluring their words, and finally dozing off on the couch.
After a near death stroke, Harold suffered a personality change, hereby making Harold into "Bad Harold". During this storyline Harold verbally abused long time friend Susan Kennedy, physically assaulted Izzy Hoyland resulting in her slapping him! As entertaining as it was, it was good to see Harold recover and be the kind and caring neighbour we all know and love!