'the race that stops a nation'™. The first Tuesday of November. The Melbourne Cup.
Without question, the Melbourne Cup is the greatest horse race in Australia. It is a fixture in the worldwide horse-racing community with millions of people from around the world tuning in every November to watch.
Last year, in the 158th running of the race, the nation came to a standstill to watch Cross Counter cross the line first in fine form.
2018 results:1. Cross Counter 2. Marmelo 3. A Prince of Arran 4. FincheHow the 2018 event played out 5. Rostropovich
Torrential rain was a fixture in 2018 forcing delays to races and the public arriving at Flemington Race track. The Bureau of Meteorology reported that the rainfall over Flemington was more than it received in September and October combined. Superior wet tracker Magic Circle rose to be the punter's favourite before being replaced by Yucatan when the rain stopped and the track began to dry out. Unfortunately, neither horse ended up finishing in the top 10.
The Cup, run over 3,200 metres (1.988 miles) is the most famous race in the Australian horse-racing calendar.
The owners of Cross Counter walked away with a purse of $4 million. Second place received $1 million and third place $500,000.00. With a total prize pool of $7,050,000.00 it was certainly the race that owners and trainers wanted to be in.
It was an international trifecta, with Godolphin Stable finally winning their first ever Cup.
With this win jockey Kerrin McEvoy secured his third Melbourne Cup, having previously ridden Brew in 2000 and Almandin in 2016 to victory.
Cross Counter's trainer, Charlie Appleby, was understandably over the moon with the win and was full of praise for the horses owner.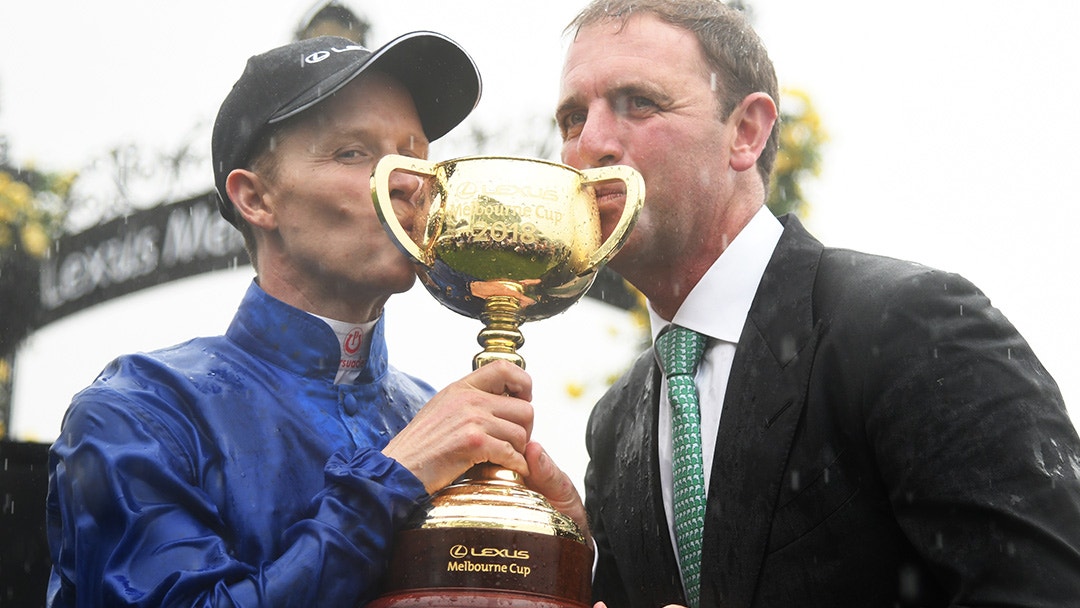 Kerrin McEvoy (L) and trainer Charlie Appleby (R) pose with trophies after Cross Counter won Race 7, Lexus Melbourne Cup during Melbourne Cup Day at Flemington Racecourse on November 6, 2018 in Melbourne, Australia. (Photo by Vince Caligiuri/Getty Images)
"This is everybody's dream," Appleby said. "This is all down to Sheikh Mohammed.
"He's the one that's given us all the encouragement to take the chances in what we do internationally. We've campaigned over here the last three years now.
"We've been competitive but we've learnt more on each trip what will make us more competitive on the day."
Despite the early rain it was another sensational Melbourne Cup. The 2019 race will surely be just as thrilling.
The Melbourne Cup Carnival 2019 on 10, 10 HD and LIVE streamed on 10 play this November.