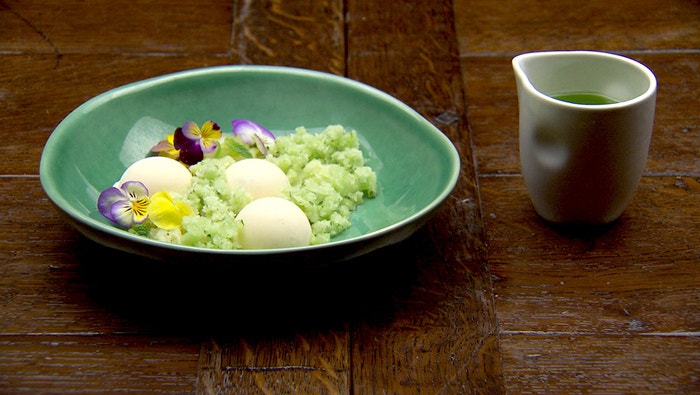 Steps
Pre-chill a shallow tray in the freezer in preparation for the granita.
For the Lime and Mint Parfait, half fill a medium saucepan with water then place over a medium heat and bring to a simmer.
Place the lime zest, mint, egg yolks and sugar into a medium bowl and place over the saucepan of simmering water. Whisk until smooth, pale and creamy. Remove the bowl from the saucepan and set aside to cool.
Meanwhile, whisk the cream to soft peaks and fold in Greek yoghurt until fully combined. Fold through the cooled egg mixture until fully combined. Fill 18 x 3cm parfait moulds with the mixture, level off with an offset palette knife, and place in the freezer until firm. Once firm, unmould and place onto a tray lined with baking paper then place back into the freezer until ready to serve.
For the Cucumber Granita, juice the cucumbers and set juice aside.
Place the sugar and 60ml of water into a small saucepan over medium heat and bring to the boil. Remove from heat then add the lime zest, mint leaves and cucumber juice and stir to combine.
Cool the granita mixture over a bowl of iced water and then pour into the pre-chilled shallow tray. Place into the freezer until frozen, scraping the granita every 20 minutes with a fork to flake the granita until ready to serve.
For the Compressed Cucumber, place the cucumber slices, lime and mint into a vacuum bag and vacuum seal on gentle/moist setting. Set aside in the fridge to infuse for 40 minutes.
For the Pickled Cucumber, combine the vinegar and the sugar in small bowl and stir to combine. Add the julienned cucumber to the bowl and leave to pickle for 15 minutes then drain to remove excess liquid and set aside until needed.
For the Cucumber Consommé, juice the cucumbers. Combine half of the juice with the sugar in a small saucepan over a low heat and simmer until reduced by half then remove from the heat and allow to cool. Add the remaining fresh cucumber juice and stir to combine. Strain through a sieve lined with muslin cloth then set aside for serving.
To serve, place 3 Lime and Mint Parfait domes along the centre of each plate. Cascade ribbons of the Compressed Cucumber, and twirl Pickled Cucumber on either side of the parfait domes.
Place edible flowers on top of the cucumber pieces, and place Cucumber Granita around the parfait domes. Garnish with some fresh mint leaves.
Serve with Cucumber Consommé on side.