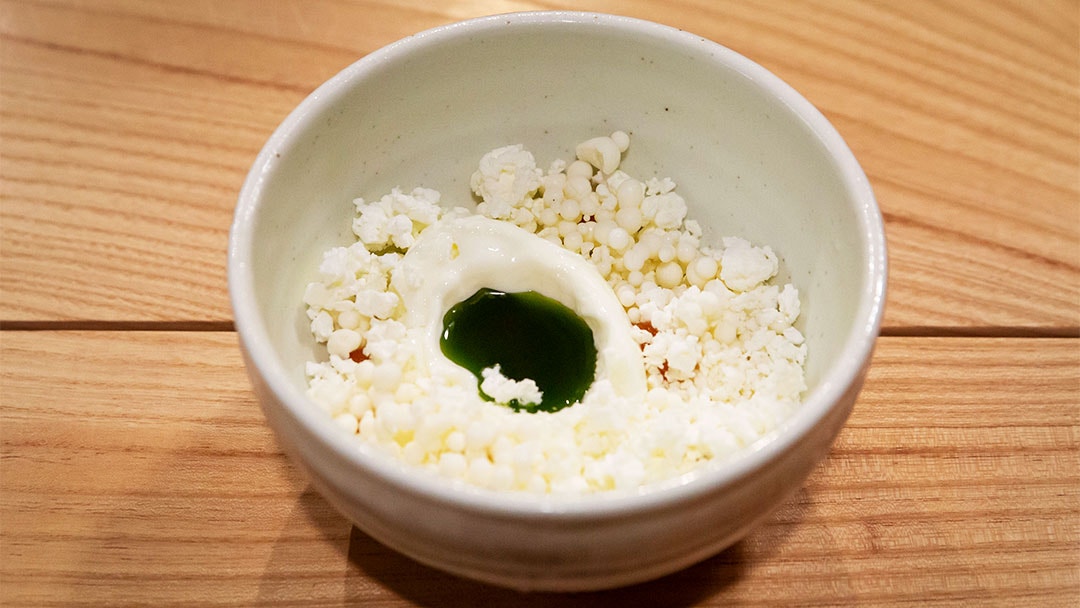 Ingredients
Yoghurt and Buttermilk Granita
Steps
Prechill an ice cream machine. Place 4 serving bowls into the freezer.
For the Yoghurt Sorbet, place sugar, glucose and one tablespoon yoghurt into a small saucepan. Stir over low heat until sugar has melted then remove from the heat. Mix into remaining yoghurt and stir in lemon juice.
Pour into an ice cream machine and churn according to manufacturer's instructions. Place into the freezer until required.
For the Bay Leaf Oil, place ingredients into a blender and process until completely broken down, about 8 minutes. Strain through a muslin lined sieve and transfer to a squeeze bottle. Set aside in the fridge.
For the Yoghurt and Buttermilk Granita, place sugar and water into a saucepan and stir over medium heat until sugar has dissolved. Place 50ml of the sugar syrup plus remaining ingredients into the canister of a small ISI gun. Charge twice with cream charges and shake well in between.
Carefully dispense foam into a large bowl of liquid nitrogen. Using a slotted spoon, break the foam apart to form small clusters. Scoop clusters out of the nitrogen and store on a lined tray the freezer.
For the Honey Yoghurt Pearls, place gelatine into a small bowl and cover with water. Set aside to soften for 5 minutes then drain well and gently squeeze out excess water.
Place water, sugar and honey into a saucepan and bring to the boil. Remove from the heat and allow to cool slightly. Add softened gelatine and stir to melt. Whisk in yoghurt then transfer to a squeeze bottle.
Carefully squeeze mixture into bowl of liquid nitrogen to freeze. Allow to pearls to harden them scoop out with a slotted spoon and place onto a lined tray. Store in the freezer until required.
For the Salted White Chocolate, place chocolate into a microwave safe bowl and cook in 30 second intervals, stirring between, until melted. Remove from the microwave stir in a little salt. Whisk maltodextrin in until a fluffy snow like texture is achieved. Set aside in fridge.
To serve, place some raw honeycomb and Salted White Chocolate into each frozen bowl. Top each with a quenelle of Yoghurt Sorbet and create a small well on top using the back of a teaspoon. Spoon in Bay Leaf Oil. Sprinkle Yoghurt and Buttermilk Granita and Honey Yoghurt Pearls around sorbet and serve immediately.