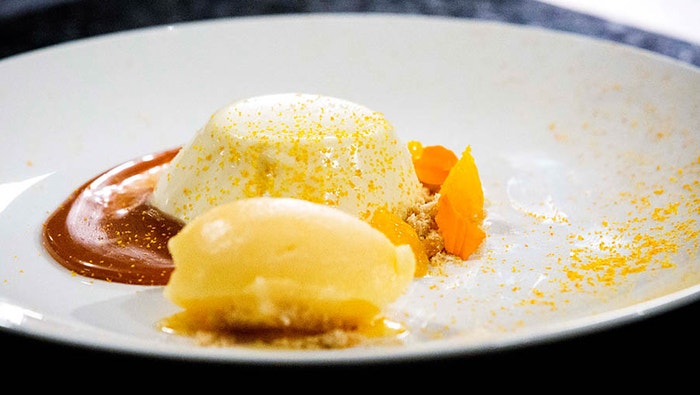 Steps
Preheat oven to 180C. Turn on ice cream machine to chill.
To make the Orange Sorbet, heat sugar, glucose and 250ml of the orange juice in a medium saucepan until sugar is dissolved. Remove from heat and add stabilizer, whisk well until dissolved. Stir in remaining orange juice and strain through a sieve into a container. Place into freezer until semi-frozen then transfer to ice cream machine to churn according to manufacturers instructions.
To make the Panna Cotta, heat milk and agave nectar in a small saucepan until dissolved. Squeeze out gelatine to remove excess water and add to saucepan, stir until dissolved. Place white chocolate in a bowl and pour hot milk mixture over chocolate, whisk until smooth. Add cream and yoghurt and whisk to combine. Strain mixture and pour into 4 x 125ml panna cotta moulds and set aside in freezer until required.
To make the Macadamia Crumb, line a baking tray with baking paper. Place flour, sugars, salt, cardamom and butter into a food processor and blitz to bread crumb size. Add macadamias and process to a rough crumb. Spread over baking tray and bake until golden and crisp, about 10 minutes.
Remove from oven, sprinkle coconut over the crumb and set aside to cool. Once cool, sprinkle grated white chocolate over the crumb. Set aside.
Turn oven down to 70C.
To make the Caramel, combine sugar, glucose and 1tbsp of water in a small saucepan and stir to combine over medium heat until golden. Meanwhile, heat cream, salt and cardamom in a small saucepan just below simmering point.
Remove caramel from heat and whisk in warm cream. Add butter gradually and whisk to emulsify. Add chocolate gradually and stir until combined. Transfer caramel into a piping bag and set aside in the fridge.
To make the Orange Dust, line a baking tray with baking paper. Scatter orange zest onto tray and place into oven until dried and still orange in colour, about 25 minutes. Remove from oven and allow zest to cool. Break up zest using fingers to form a dust, set aside.
For the Orange Segments, heat orange juice, glucose, sugar and cardamom in a small saucepan and stir until dissolved and slightly thickened. Carefully place orange segments into syrup until sweet, about 2-4 minutes. Remove segments using a slotted spoon and cut into 1cm pieces, set aside. Continue heating syrup until reduced by 1/3.
Remove Caramel from fridge 5 minutes before serving.
To serve, pipe caramel onto plate and use a teaspoon to smear in a semi-circle. Unmould panna cotta and place next to caramel. Scatter macadamia crumb around panna cotta on side opposite to caramel. Place orange segments onto crumb and add a quenelle of sorbet. Scatter petals on plate and finish with a sprinkle of orange dust.