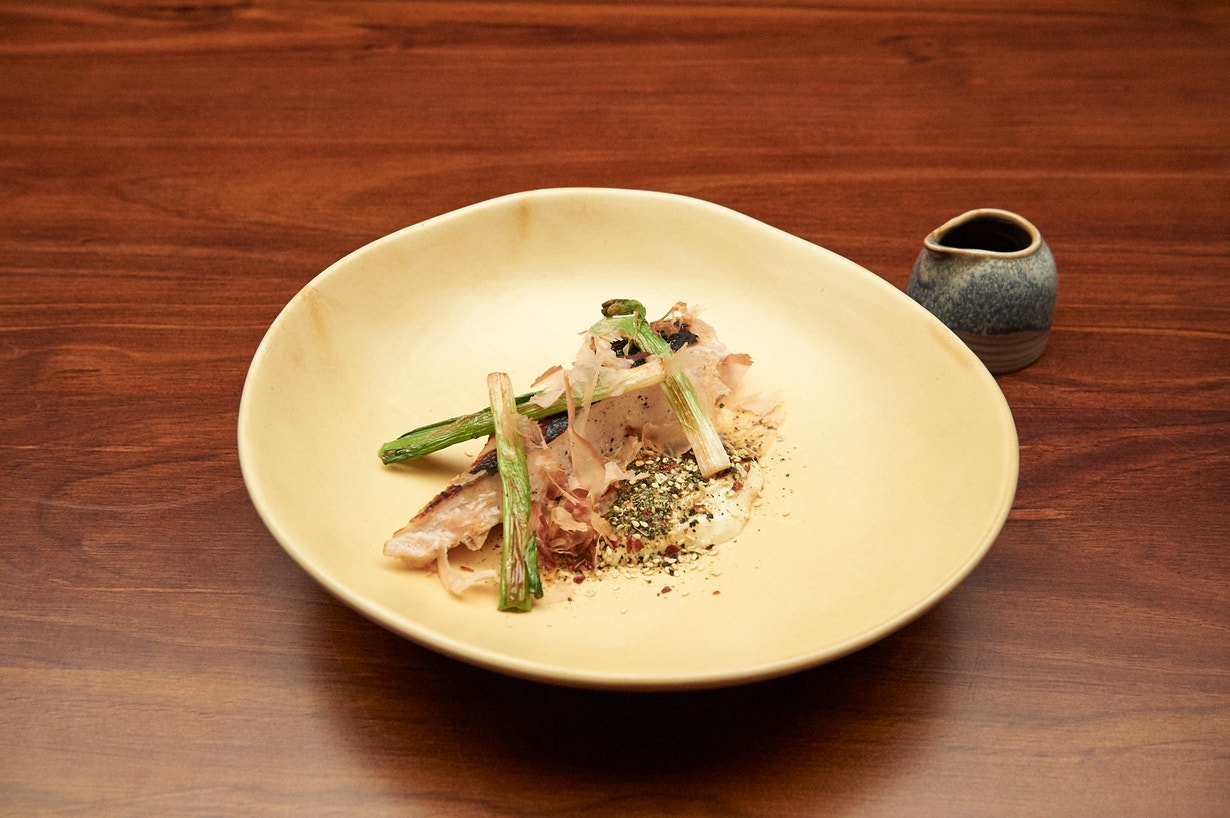 Ingredients
Crispy Skin Chicken Breast
Steps
Fill and heat a sous vide machine to 65C.
For the Crispy Skin Chicken Breast, place all ingredients, except the oil, into a large sous vide bag and vacuum seal, ensuring chicken breasts are separated in the bag.
Place the bag into the sous vide machine and cook for 35 minutes. Remove the chicken from the bag.
Place a medium frypan over medium heat and add the oil. Once hot, place the chicken into the pan, skin side down and cook until the internal temperature of the breast reaches 74C and the skin is golden.
Set aside on a chopping board to rest for 5 minutes then slice in half lengthways to serve. Season with salt and pepper.
For the Yakitori Sauce, place oil into a medium frypan and place over medium heat. Add the chicken carcass and cook until golden and caramelised, about 15 minutes. Add the onion and garlic and sauté until golden and softened.
Add the sake and reduce by two thirds.
Add the mirin, dark soy sauce, sugar and star anise. Cook until the liquid has reduced and a formed a thick sticky sauce.
Strain through a fine sieve and transfer into a serving jug.
For the Furikake Seasoning, break up the toasted seaweed or nori and place into a spice grinder, along with bonito flakes and onion powder. Process to a powder. Pour into a bowl and mix in the remaining ingredients. Set aside.
For the Bonito Mayonnaise, heat the oil in a small saucepan until it reaches 90C. Remove from the heat and add the bonito flakes. Set aside to cool to room temperature.
Place 80ml bonito oil (with the bonito flakes), the egg and vinegar into the canister of a stick blender. Place the blade cage of the stick blender over the egg and process briefly then while blending, draw the stick blender up through the ingredients and blend until thick and emulsified.
Season with salt, to taste. Set aside.
For the Charred Spring Onion, place the oil into a medium frying pan and place over medium heat. When hot, season the spring onion and cook until charred and soft. Remove from the heat and set aside.
To serve, place a spoonful of Bonito Mayonnaise onto each serving plate. Dust with Furikake Seasoning and add some Charred Spring Onion. Add the Crispy Skin Chicken, sprinkle with bonito flakes on top and serve with the Yakitori Sauce on the side.