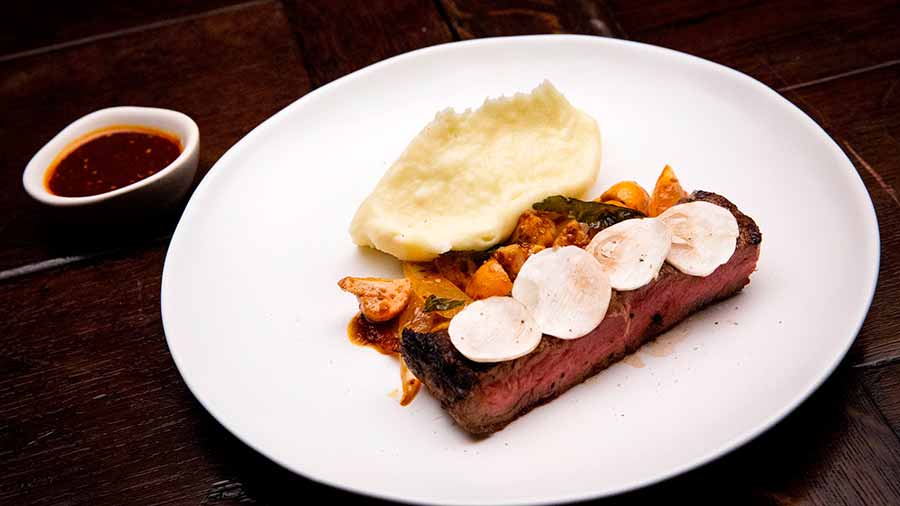 Steps
For the XO Steak, mix XO chilli sauce and sambal oelek together in a small bowl. Spread mixture onto both sides of each steak and set aside on a plate to marinate for 45 minutes.
For the Pickled Mushrooms, mix all ingredients together in a bowl and set aside to marinate for 30 minutes.
When ready to cook, heat a medium frypan over medium heat. Add pickling mix to the pan and fry until caramelised, about 2-3 minutes. Remove from heat and set aside, keeping warm.
For the Potato Mash, half fill a medium saucepan with salted water then add potatoes. Cover, place over high heat and bring to the boil. Once boiling, continue to cook until potatoes are extremely tender, about 8-10 minutes.
Remove from the heat and drain the potatoes. While the potatoes are still steaming hot, use a potato masher to mash the potatoes until smooth. Gradually add in the butter, a cube at a time until fully incorporated. Whisk in cream and milk and continue to whisk until fully combined and smooth. Season with salt and pepper and set aside, keeping warm.
For the Crispy Curry Leaves, add enough oil to a small saucepan to come 2.5cm up the sides of the pan. Place saucepan over medium heat and once oil is hot, add curry leaves and fry until crispy. Remove leaves and drain on paper towel until needed for garnish.
To finish the XO Steak, heat a large frypan over medium heat. Season the marinated steaks with salt and pepper, add to the pan and fry for 3-4 minutes on each side. Remove steaks from the pan and allow to rest for 10 minutes on a tray, reserving the resting juices.
For the Chilli Sauce, combine all ingredients in a bowl and, stir thoroughly until well combined. Adjust seasoning if needed.
To serve, trim XO Steaks into long rectangular shapes and place on one side of the plate. Top XO Steak with shaved mushrooms. Spoon Pickled Mushrooms mixture in a line next to steak and top with some Crispy Curry Leaves. Place a quenelle of Potato Mash next to the Pickled Mushrooms. Serve with Chilli Sauce in a dish on the side.