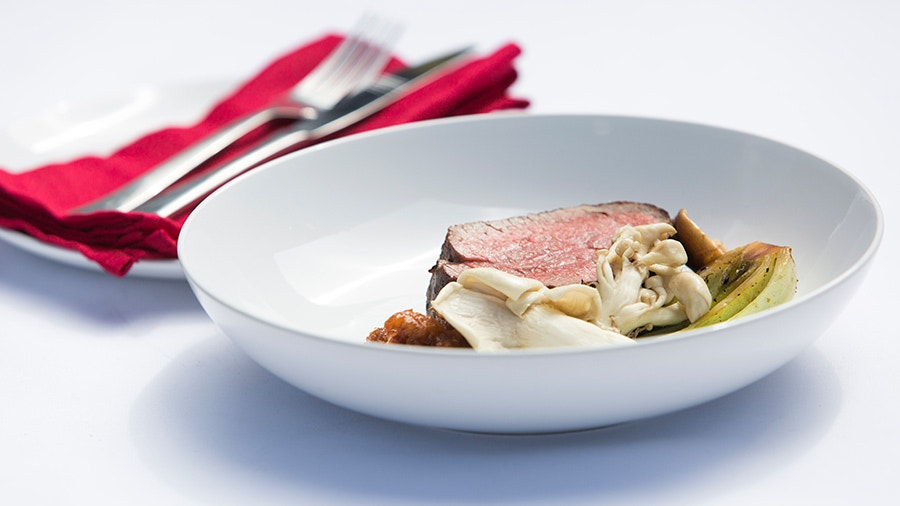 Steps
Preheat oven to 190C.
For the XO Sauce, place shallots, garlic, chillies and dried shrimp into a food processor and process until finely chopped.
Place bacon into small frypan and cook over medium heat until golden.
Add oil and the shallot mix to the bacon and continue to cook until softened and fragrant, about 2 – 3 minutes. Add star anise and cinnamon sticks to the mixture and cook until mixture has caramelised.
Add wine, vinegar, sugar and soy sauce. Mix well and allow to cook for a few minutes.
Add veal stock and 250ml water to the saucepan and simmer until thick and jammy. Once thick and reduced, set aside, keeping warm until needed.
Season the beef fillets generously with salt, pepper and oil. Place a heavy based frypan over high heat until hot. Add a little oil to the pan and then the beef fillets. Sear on high heat until the surface of the beef is completely caramelised.
Place beef fillet into oven and cook for 13 minutes. Remove from oven and allow to rest, covered, for 10 minutes.
For the Pickled Mushrooms, bring vinegar and sugar to a boil and stir until sugar has dissolved. Add mushrooms to pickling liquid briefly, about 30 seconds. Remove mushrooms from pickling liquid and allow to drain through a fine sieve to remove any excess liquid. Set aside until needed.
For the Bok Choy, remove outer leaves and rinse bok choy halves well. Heat a wok or large frypan over high heat. Add oil then half of the bok choy and sauté for 1 minute. Add 3 tablespoons soy sauce and sauté for a further 3 minutes until leaves are tender and stems are still a little crisp. Remove the bok choy from the pan and repeat with remaining half of the bok choy and soy sauce. Set bok choy aside, keeping warm, until needed.
To serve, cut the beef fillets into 10 slices. Place once slice of beef in to the centre of each plate. Place bok choy and drained mushrooms next to the beef on each plate. Add a spoonful of the XO sauce next to the beef and serve.