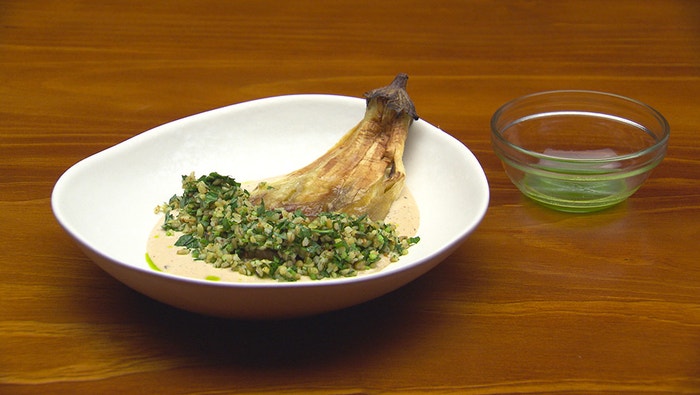 Steps
Preheat oven to 180°C. Preheat the grill to high.
For the Smoky Roasted Eggplant, place eggplants on a baking tray and place under a grill set on high. Turn eggplants every 10 minutes and cook until skins are charred and flesh is tender, about 40 minutes. Once cooked, remove eggplants from grill and place in a sieve set over a medium bowl. Cover the bowl with glad wrap so that the sieve and eggplants are fully enclosed, and allow to steam for 10 minutes.
One steamed, remove glad wrap and carefully peel the skin off the eggplants, being careful to leave the eggplants whole with the stem attached. Return the skinned eggplants to the sieve and continue to drain until ready to serve.
For the Parsley Oil, blanch parley in boiling water for 1 minute until bright green, then remove from water and immediately plunge into a bowl iced water. Drain the parsley and squeeze as much water out of the parsley as possible. Pat dry with paper towel.
Place parsley in the canister of a stick blender, add the oil and blitz with the stick blender until smooth and oil is bright green. Pour oil into fine sieve lined with muslin cloth and set aside to drain until needed for serving.
Meanwhile, place a medium saucepan of water on to the stovetop over high heat and bring to the boil.
For the Freekeh Salad, rinse the freekeh under cold water until the water runs clear and drain well. Divide freekeh in two portions. Place half into the boiling water and simmer until tender, about 15-20 minutes. Drain and set aside until needed.
Place the other half of the freekeh into a medium bowl, add the olive oil and mix well to coat the grains. Transfer the freekeh onto a baking tray lined with baking paper and spread out over the tray. Roast in the pre-heated oven until golden and toasted, about 20 minutes.
Once toasted, take the freekeh out of the oven and transfer to a mortar and pestle. Pound the roasted freekeh until it resembles fine bread crumbs. Set aside until needed.
To assemble the salad, finely chop the parsley and combine in a large bowl with lemon zest, boiled freekeh, roasted freekeh, ½ tsp date syrup and ½ tsp sumac. Toss well to combine. Just before serving, season with salt and dress with the lemon juice and 2 tablespoons parsley oil, mixing well to combine.
For the Tahini Dressing, place tahini in a bowl and thin with 2-3 tablespoons water. Whisk in the remaining ingredients and season to taste.
To serve, pour the Tahini Dressing in the base of a large shallow serving bowl.
Carefully place the Roasted Eggplants on top of the dressing. Season eggplants with olive oil, lemon juice and salt and pepper to taste.
Sprinkle the Freekeh Salad on top of the eggplant and finish with some drops of the Parsley Oil.