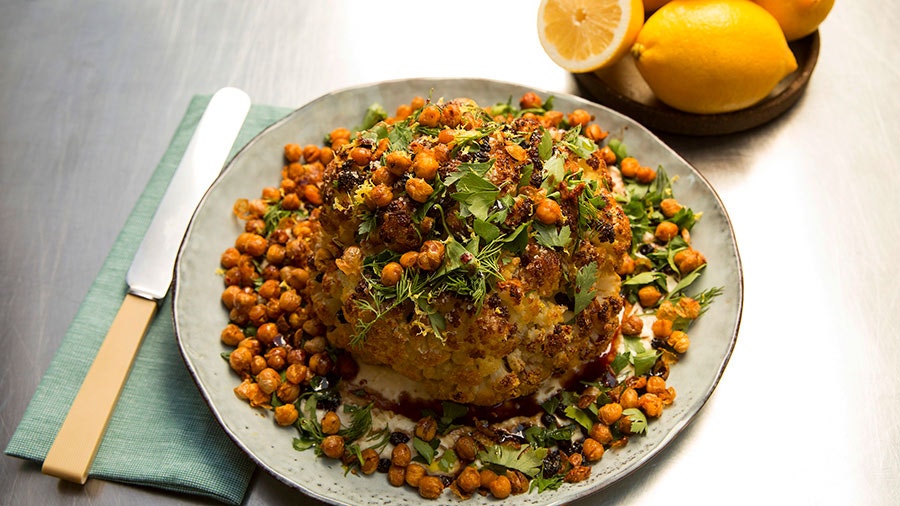 Ingredients
Pomegranate Molasses (optional to make rather than ready made)
Steps
Preheat oven to 220C/ 200C fan-forced. Line two baking trays with baking paper.
Place the whole cauliflower in a bowl, cover and microwave on high until tender, about 8 minutes.
Rub the cauliflower all over with 60ml of the oil and season with salt. Transfer to one of the lined baking trays and bake until golden, about 30 minutes.
Meanwhile, make the Tarator. Place the bread into a bowl and soak in warm water for 20 minutes. Drain and squeeze out excess water.
Add the squeezed bread to a food processor with the almonds, tahini, garlic and four ice cubes and blitz until combined. Season with salt and stir in the lemon juice. With the motor running, slowly add the oil until you have the texture of hummus, adding a little water if needed.
Place the currants and warm vinegar into a bowl for 15 minutes to macerate the currants. Drain, reserving the liquid in a bowl for later use.
Dry the chickpeas with paper towel. Tip into a bowl and toss with the paprika, chilli and remaining oil. Season with salt, then scatter onto the second baking tray and bake in the oven until crisp, about 15 minutes.
For the Pomegranate Molasses, place the pomegranate juice into a small saucepan over medium heat and reduce by half. Stir in the sugar and cook until dissolved and slightly thickened. Add the reserved currant juices, a little at a time, to taste.
To serve, spread the Tarator onto the serving plate. Sit the baked cauliflower on top, then scatter with toasted cumin seeds, crisp chickpeas, sweet and sour currants, lemon zest, parsley and dill. Drizzle with the molasses to serve.