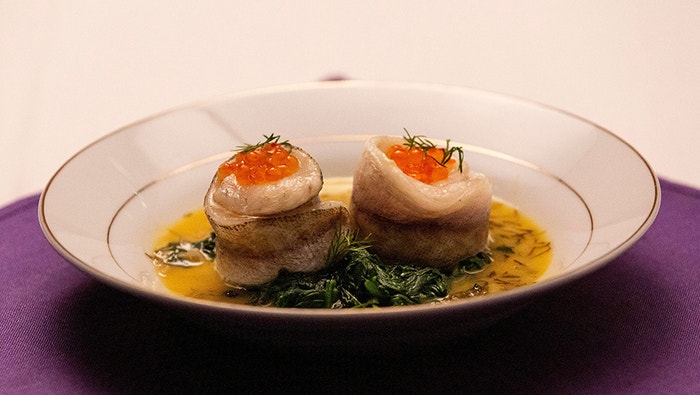 Steps
Preheat oven to 180C.
For the Dill Beurre Blanc, place the chardonnay and white wine vinegar into a large saucepan and place over a medium high heat until reduced by 3/4. Remove from the heat and set aside.
Place the oil into a small frypan and place over low heat. Add the shallots and sauté until soft and lightly caramelised but not browned. Remove from the pan and add to the reduced chardonnay mixture. Slowly add the butter, 50g at a time, whisking constantly until incorporated. Remove from the heat.
Prior to serving, add the dill and stir through. Transfer to a serving jug, keeping warm.
For the Sautéed Spinach, wash the spinach thoroughly and roughly chop. Place the butter into a medium frypan over a medium high heat. Once melted, add the chopped spinach and sauté until collapsed. Season with salt and pepper and remove from the heat. Keep warm.
For the King George Whiting, remove fillets and pin bone.
Starting with the widest end, with the skin facing out, roll the fillets into a scroll. Secure with a skewer to hold into shape.
Place the rolled fish onto a baking tray and brush the top of each roll with oil and sprinkle with salt.
Place into oven and bake until cooked through and the temperature in the centre of the fish reaches 50C, about 8 minutes. Remove from the oven and set aside.
To serve, divide spinach between serving plate. Top with King George Whiting and Dill Buerre Blanc. Garnish with a little caviar and fresh dill.