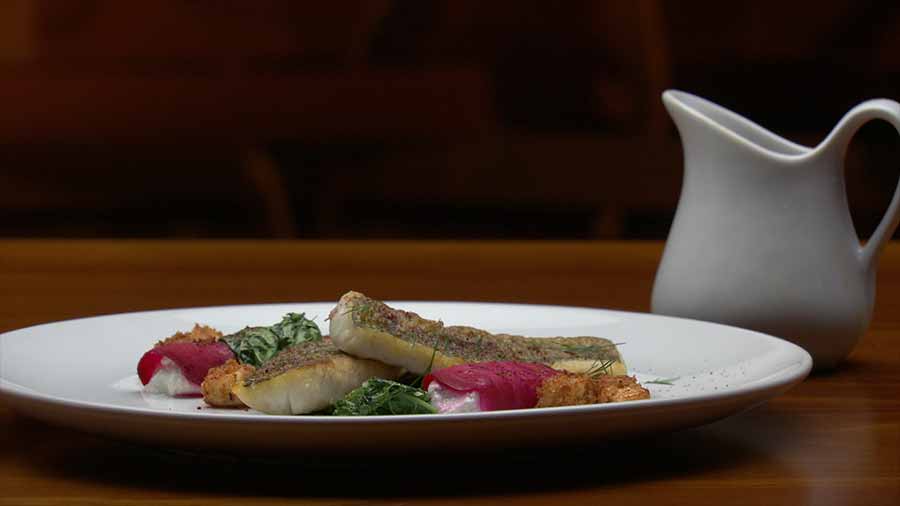 Steps
For the Beetroot Cigars, first prepare the pickling mixture by combining verjuice, hazelnut oil, cider vinegar and a pinch of salt and pepper in a medium bowl. Whisk well then add beetroot slices. Set aside to pickle until needed.
Place haloumi into a blender with lemon juice, oil and a pinch of salt and pepper. Process until smooth, then transfer to a medium bowl. Fold in the chives, dill and sumac. Set aside in the fridge until needed.
To prepare King George Whiting, remove fillets, trim tail end and debone. Reserve the bones and trimmings for the Sauce and set fillets aside in the fridge until needed.
For the Sauce, cut the carcasses of the whiting into 4 pieces, discard the piece that carries the stomach of the fish. Chop the heads in half between the eyes. Heat oil in a large saucepan over medium heat. Add the fish bones and fry off until caramelised. Add the stock, onion stem, dill, salt and pepper to the saucepan. Cook until reduced by half. Add mustard and continue cooking until reduced by half.
Whisk in the butter, one cube at a time, until emulsified. Remove from the heat, transfer to a serving jug and set aside, keeping warm.
For the Fried Haloumi, heat oil in a medium saucepan to 180C.
Place egg into a shallow bowl and beat with a fork. Place the salt, pepper, sumac and panko crumbs in a separate shallow bowl. Dip the haloumi cubes into the egg and take out, allowing excess egg to drip off, then drop the egg washed haloumi cubes into the bowl of seasoned crumbs. Toss gently, ensuring the cubes are evenly coated.
Fry crumbed haloumi in the preheated oil until golden, about 35-40 seconds then remove from the oil and place onto paper towel to drain excess oil. Season lightly with salt and set aside until needed.
For the Horseradish Greens, clean and remove the stems from the horseradish greens. Heat a large frypan over medium high heat and add oil. Add horseradish greens, onion and garlic and sauté until just tender, about 2 minutes. Remove from heat, season with salt and pepper and set aside until needed.
Meanwhile, to finish the King George Whiting, heat grapeseed oil in large frypan over medium heat. Season fillets and fry, skin side down, for 75 seconds. Turn fillets, sprinkle with lemon juice, dill and sumac and cook for 30 seconds then remove from the heat.
To finish the Beetroot Cigars, take a slice of the beetroot and pat it dry lightly on some paper towel. Add a small spoonful of the haloumi into the centre of the beetroot slice and roll into a cigar shape.
To serve, place 2 Beetroot Cigars onto each serving plate. Arrange Horseradish Greens around the plates, top with a King George Whiting fillet and dust with sumac. Place Fried Haloumi around the plate. Serve with Sauce on the side.