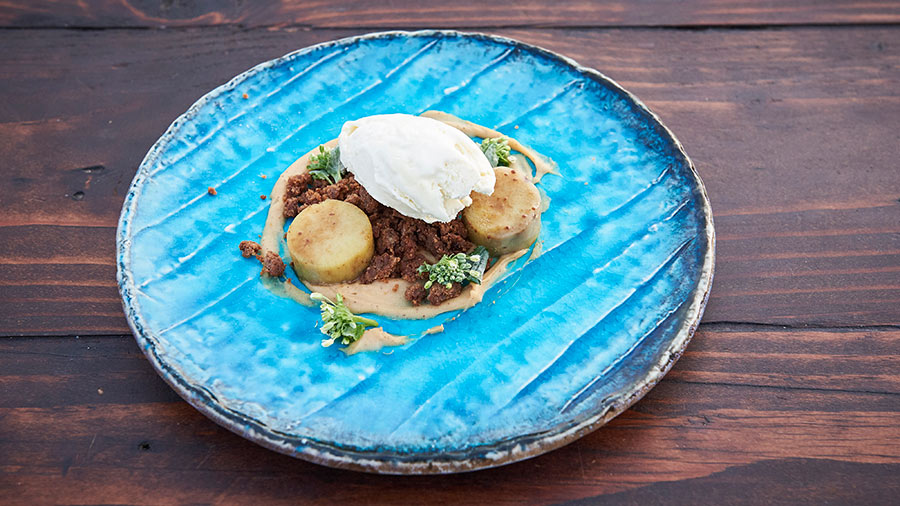 Steps
Turn on ice cream machine to pre-chill. Preheat oven to 180°C.
For the Wasabi Ice Cream, place egg and sugar into the bowl of an electric mixer fitted with a whisk attachment and beat until pale and creamy.
Meanwhile, using a stick blender, blitz the cream, milk and wasabi paste together in a medium saucepan. Place over a low heat and heat to just below boiling.
With the motor running, pour the milk mixture into the egg mixture and whisk continuously until combined. Transfer the mixture back to the saucepan and set over a low heat. Stir constantly with a spatula until the mixture thickens enough to coat the spatula. Remove from heat, strain through a fine sieve into a clean bowl, place over an ice bath and set aside to cool.
Once cool, transfer the mixture to the pre-chilled ice cream machine and churn according to manufacturer's instructions. Once churned, place in the freezer to set. Once firm enough to hold it's shape and scoop, make 4 rochers of ice cream and place on a small metal tray lined with baking paper. Place in to the freezer until ready to serve.
For the Nutmeg Crumb, combine all ingredients in a medium bowl and rub together with fingertips. Knead to form a dough, then wrap in cling film and set aside in the fridge for 15 minutes.
Roll out the dough to 1 cm thick and place on a flat baking tray lined with baking paper. Bake in the pre-heated oven until golden, about 15 – 20 minutes. Remove from oven and crumble with fingers on to the tray. Set aside on the tray to cool until ready to serve.
For the Honey Yam Fondants, cut yams into 2cm slices. Use a 3 cm round cutter to cut discs from the yam slices. Set aside until needed.
Combine caster sugar and 350ml water in a small saucepan and bring to boil over medium heat, stirring until sugar dissolves. Add the yam discs, reduce heat and simmer until slightly soft, about 8 minutes. Drain the fondants and set aside on paper towel until needed.
Heat a heavy based frypan over low heat. Add the butter and allow to melt. Add the yam discs and fry gently, basting with the melted butter and until golden and soft. Remove the fondants from the pan and drain on paper towel. Drizzle mirin over the fondants and sprinkle with brown sugar. Set aside, keeping warm, until ready to serve.
For the Honey Yam Purée, boil honey yams in water on a high heat, until tender, about 15 minutes. Drain the yams and place into the canister of a stick blender with the butter and sugar. Blitz with a stick blender until a coarse purée. Gradually add the milk, blitzing well after each addition, until a smooth consistency is reached. Season to taste and set aside until ready to serve.
For the Sugared Wasabi Flowers, place flowers and icing sugar in a bowl and toss well to coat the flowers completely. Remove flowers from the bowl, shaking off excess icing sugar, and set aside until needed.
To serve, place a generous spoonful of Honey Yam Purée in the middle of each plate and swirl around the base of the plate. Scatter 1 or 2 spoonfuls of the Nutmeg Crumb on purée. Place a Honey Yam Fondants in the middle of each plate, on top of the crumbs. Scatter 5 Sugared Wasabi Flowers around each plate. Top each fondant with a rocher of Wasabi Ice Cream.