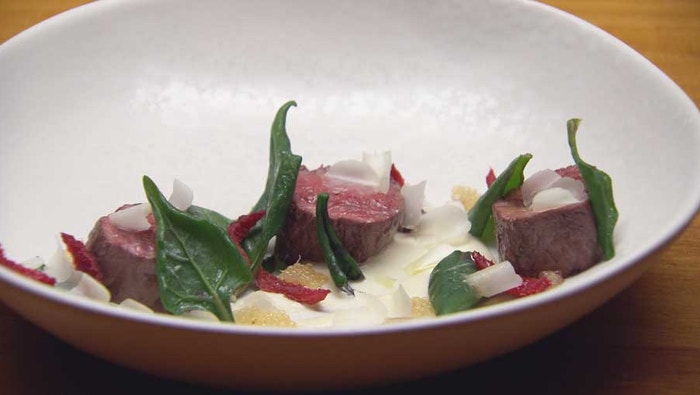 Steps
Preheat oven to 115C.
In a hot pan with oil, sear the seasoned wallaby on all sides evenly. Transfer to a baking tray and roast for 10-12 minutes until the internal temperature reaches 50C-55C. Remove from oven and rest, covered. Slice wallaby and set aside.
Place lemon myrtle and oil in a large pan and cook over a low heat (at 100C) for 10 minutes until oil is infused. Remove from heat and leave to infuse for another 30 minutes. Discard leaves and set aside.
Place quandongs onto paper lined baking tray and bake for 35-40 minutes until dried. Slice into quarters.
In a medium saucepan of salted boiling water, cook the greens for 5 seconds and immediately plunge into an ice bath. Strain and set aside.
Place toasted macadamia nuts in a pot with milk and cream. Bring to a boil and immediately remove from heat. Transfer to a blender and blitz, add butter and season. Pass through a sieve and set aside
To plate, drizzle macadamia sauce over the plate and place sliced wallaby on top. Garnish with warrigal greens, quandong, finger lime and thinly sliced macadamias. Drizzle with infused oil.