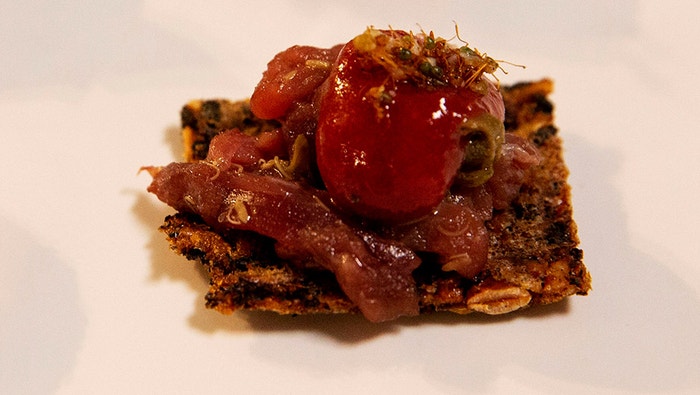 Steps
Preheat oven to 180C.
For the Seeded Crackers, place glutinous rice and 400ml water in a large saucepan and set over medium heat. Bring to a boil, then reduce heat to low, and simmer until tender, about 15-20 minutes. Remove from heat, strain and transfer rice into a medium bowl.
Add seeds, salt and pepper berries and mix to combine.
Roll mixture out between 2 sheets of baking paper to a thickness of 2mm and place onto a large baking tray. Remove the top sheet of baking paper and place in oven to bake for 15 minutes.
Remove from oven and using a sharp knife, portion into 30 5cm X 3cm rectangles then place the tray back in the oven to bake until cracker is crispy, about 25-35 minutes. Set aside for serving.
For the Quandong and Plum Chutney, place quandongs, plums, sugar and 65ml water in a medium saucepan and set over high heat. Bring to a boil, reduce heat and simmer for 25-30 minutes until fruits have broken down, stirring regularly with a silicone spatula to prevent base of pan burning. Remove from heat and cool slightly.
Transfer to a food processor and process until a gel like texture is achieved. Transfer to a piping bag and set aside for serving.
For the Wallaby Tartar, trim sinew and fat from the wallaby. Finely dice the meat and place in a bowl. Finely chop the capers and anchovies and add to the diced wallaby with the olive oil and salt. Stir to combine and set aside in fridge.
To serve, place a small spoonful of the Wallaby Tartar onto each seeded cracker. Top with a little Quandong and Plum Chutney and garnish with green ants.