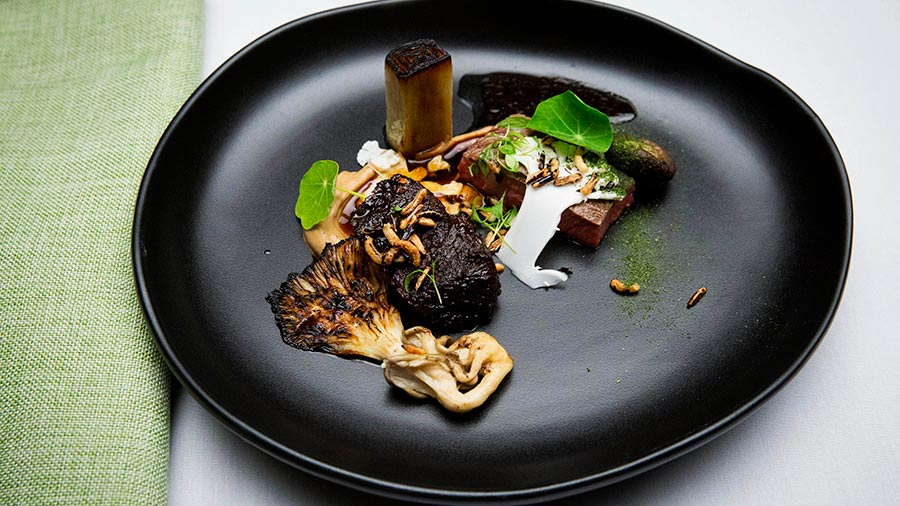 Steps
Preheat oven to 200C
For the Wagyu Beef Short Ribs, heat olive oil in a large oven proof roasting tray over high heat. Season the beef ribs to taste, add to pan and brown all over. Remove from heat and set aside until needed.
Toast the coriander seeds, star anise, cinnamon sticks and black peppercorns in a small frypan over medium-high heat until fragrant. Transfer to a spice grinder and grind to a fine powder. Transfer the spice powder to a medium bowl and set aside until needed.
In a medium bowl, place oyster sauce, sesame oil, soy sauce, brown sugar, kecap manis and dried chillies and stir well to combine. Pour the mixture over the ribs, then cover with the veal stock. Add the lemon zest, birds eye chilli, bay leaves, garlic, shallots and grated ginger to the pan and mix well to combine.
Cover the baking dish tightly with several layers of foil and roast in the pre-heated oven for 1 hour. Reduce the oven temperature to 170C and cook for a further 1½ hours until ribs are tender. Once cooked, remove from oven and set aside, keeping warm, until ready to serve.
For the Cauliflower Purée, cut cauliflower into florets and spread over a baking tray lined with baking paper. Drizzle with olive oil and sprinkle with salt to taste. Cook in the pre-heated oven until golden brown, about 35 – 40 minutes.
Remove from oven and transfer roasted cauliflower to a saucepan, along with the cream, and simmer over low heat for 5 minutes. Add the butter then transfer the mixture to a blender. Process on high speed until a smooth purée. Season with salt to taste, then pass the purée through a sieve into a medium saucepan. Cover and set aside until needed.
Reduce oven to 75C.
For the Brassica Powder, remove leaf portion from each stem. Spread the leaves out on a large baking tray lined with baking paper. Place the tray into the pre-heated oven to dehydrate for 1½ hours. Once dehydrated, transfer the leaves to a blender and blitz to a fine powder. Set the Brassica Powder aside until ready to serve.
For the Pickled Cauliflower, using a mandolin, thinly slice the cauliflower and place in a medium bowl. Set aside until needed.
Place vinegar, sugar and ½ cup water into a small saucepan and stir over medium heat to dissolve sugar. Remove from heat and allow to cool slightly before pouring over the cauliflower. Set aside to pickle for 30 minutes. Once pickled, drain the cauliflower on paper towel and set aside until ready to serve.
For the Charred Leeks, heat a grill pan over medium heat.
Remove the outer layers of the leeks and cut each leek into thirds lengthways. Place into the hot pan with the olive oil and butter and cook until tender, about 7 – 8 minutes. Pour in the veal stock to deglaze the pan. Remove from heat, cover pan and set aside until needed
For the Puffed Wild Rice, half fill a small saucepan with oil and heat to 220C.
Add wild rice to the hot oil and cook until the rice puffs, about 10 – 15 seconds. Remove rice from oil using a wire spider and set aside to drain on paper towel until ready to serve.
Prepare coals for an hibachi grill, heat a BBQ or place a grill pan over high heat.
For the Mushrooms, place mushrooms on prepared grill or BBQ and grill, turning frequently, until charred and tender. Remove mushrooms from grill and set aside.
Melt the butter in a medium frypan then add charred mushrooms. Toss to coat with the butter thoroughly. Season the mushrooms to taste with salt and set aside, keeping warm, until needed.
For the Wagyu Beef Fillet, place a grill pan on high heat. Season steaks with salt and place in the hot grill pan. Grill until charred and medium, about 3 minutes each side, or until cooked to your liking.
Remove steaks from pan, reserving pan juices, and allow to rest, loosely covered with foil, for 10 minutes before slicing each steak into 3 portions.
For the sauce, place ¾ cup of the reserved pan juices in a medium frypan and heat over medium-high heat. Add veal stock and deglaze the pan. Add 2 cups reserved rib sauce and simmer for 20 minutes. Strain thr sauce through a fine sieve and transfer to a clean, small saucepan and set aside, keeping warm, until ready to serve.
To serve, spread a few spoonsful of Cauliflower Purée on the base of each serving plate.
Place one Wagyu Beef Short Rib and one Wagyu Beef Scotch Fillet portion on each plate. Position a portion of Charred Leek, standing up, at the top of each plate. Place one of each type of Charred Mushroom and 2 pieces of Pickled Cauliflower on and around the leek and the beef. Drizzle each plate with a little sauce and add a nasturtium leaf to each plate. Add a sprinkle of Puffed Wild Rice and micro parsley. Finish with a sprinkle of Brassica Powder over whole dish. Serve with extra sauce in a jug on the side.