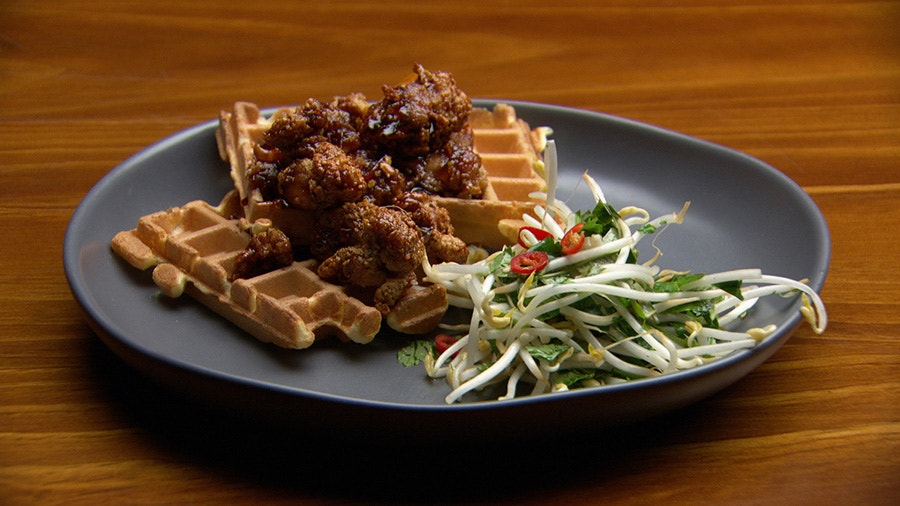 Ingredients
Herb and Beansprout Salad
Steps
Preheat the waffle iron.
For the Chill Soy Caramel, heat the sugar in a frying pan over medium heat, swirling the pan occasionally, until sugar has melted and the caramel has turned a deep amber colour.
Remove from the heat and add 3 tablespoons of water, soy sauce and chilli, and swirl again to incorporate. Season to taste and set aside, keeping warm.
For the Herb and Beansprout Salad, toss the beansprouts and herbs together in a small bowl and set aside in the fridge.
For the Dressing, combine all the ingredients in a small bowl and stir to combine. Set aside.
For the Triple Fried Chicken, place the soy, tamarind, sesame oil and shaoxing wine in a medium bowl and stir to combine. Add the chicken, toss to coat, and set aside in fridge to marinate for at least 20 minutes.
Heat a medium saucepan of oil to 190°C. Remove the chicken pieces from the marinade and drain well to remove excess liquid. Place cornflour into a medium bowl and add chicken pieces and toss to coat. Working in batches, add chicken pieces to the oil and deep fry for 30 seconds, then remove from the oil and drain on paper towel for 30 seconds. Repeat the frying and resting process a further 2 times.
After the chicken has been fried 3 times, rest the chicken for 2-3 minutes and keep warm.
For the Waffles, combine all ingredients, except for the egg whites, in a medium bowl and whisk to combine. In a separate bowl, whisk the egg whites into stiff peaks. Gently fold the egg whites through the waffle batter until fully combined.
Add approximately 1/3 cup of the batter per waffle in the hot waffle iron until deep golden brown and crispy. Set aside on a wire rack and repeat with remaining batter to make 8 waffles.
To serve, place two Waffles onto each serving plate. Toss the Triple Fried Chicken in the Chilli Soy Caramel then place onto the Waffles. Add the bowl of Dressing to the Herb and Beansprout Salad and toss well to coat. Serve with Herb and Beansprout Salad on the side.