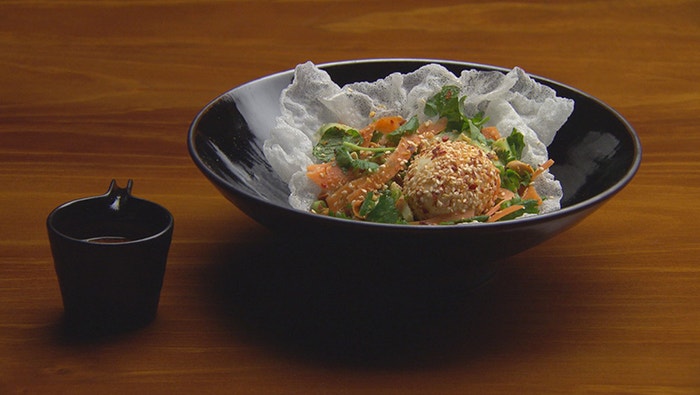 Steps
Preheat deep fryer to 180C. Prepare an ice bath in a medium bowl.
For the Vietnamese Salad, place coriander leaves, mint leaves, spring onion, carrot and cucumber into a medium bowl then cover with cling film and set aside in the fridge.
For the Salad Dressing, place the chilli, ginger and garlic into a mortar and pestle and pound together until smooth. Add the fish sauce, lime juice, brown sugar and 1 tablespoon of water and mix well to combine. Set aside.
For the Crispy Rice Paper, use a long pair of tongs to carefully place a sheet of rice paper onto the surface of the hot oil in the deep fryer. Working quickly, position tongs in the centre of the rice paper and press the centre of rice paper down into the oil to create a basket shape. Cook until the rice paper is white, puffed and crispy, approximately 20-30 seconds. Remove from the oil and set aside, upside down, on paper towel. Repeat this process with remaining 3 sheets of rice paper.
For the Soft Boiled Egg, place a medium saucepan of water over high heat and bring to the boil. Add eggs and cook for 5 ½ minutes. Remove eggs from the water and place into the prepared ice bath for 3 minutes. Remove from the ice bath and set aside.
For the Dukkah, place all the ingredients into a small bowl and mix to combine.
Peel the eggs then roll in the Dukkah mix, ensuring the eggs are completely coated. Set aside.
To serve, place a Crispy Rice Paper basket onto each serving plate. Pour the Salad Dressing over the Vietnamese Salad and toss to coat. Divide the Vietnamese Salad between plates then top with a Soft Boiled Egg. Finish with a sprinkle of the excess Dukkah.