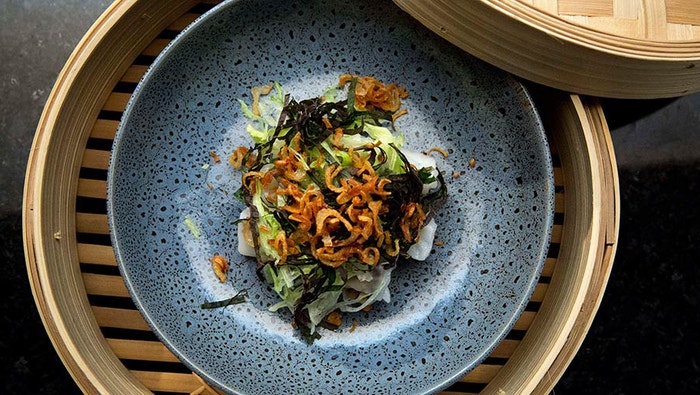 Steps
For the Pork and Mushroom Filling, heat a sauté pan over medium heat. Add the peanut oil, brown and spring onions and sauté until soft. Add mushrooms and continue to cook for a further 5 minutes. Remove onions and mushrooms from the pan and set aside, keeping the pan on the heat.
Add the pork mince, fish sauce and sugar to the hot pan and cook, stirring occasionally to break up lumps, until cooked through, about 5-6 minutes. Return the mushroom onion mix to the pan and cook for a further 5 minutes. Season with salt and pepper then set aside.
For the Rice Noodle Rolls, place the rice flour tapioca starch, salt and water into a mixing bowl and whisk until smooth. Set aside to rest for 30 minutes.
When batter has been well rested, heat a 20cm non-stick fry pan, brush with a thin layer of peanut oil and pour 1/3 cup of batter into the pan and swirl around to create a thin layer of batter evenly on the pan. Place a lid onto the pan and cook the noodle sheet for 1 minute. Remove from heat and allow to rest for 1 minute, then invert the pan over an oiled sheet of baking paper.
Place 1-2 tablespoons of Pork and Mushroom Filling in a thin row across the middle of the noodle sheet ensuring that it does not overflow over the edge. Fold the left and right sides of the sheet over the filling until they just touch each other. Tuck the bottom of noodle sheet and start rolling the noodle into a roll to secure the contents. Set aside covered until ready to serve.
Repeat steps of making noodles and filling with mixture until batter and filling is finished.
To make the Fish Sauce Dressing, place all ingredients into a blender and blitz until well combined. Set aside.
For the Fried Shallots, half fill a small saucepan with peanut oil and heat over a medium heat. Once the oil is hot, add shallots and fry, stirring occasionally, until crispy and golden about 4-5 minutes. Drain on paper towel, season with salt flakes and set aside.
For the Salad Garnish, soak lettuce and perilla leaves in ice cold water to freshen up until ready to serve.
To serve, place 3 rolls in a row, side by side, in the middle of the serving plate. Add a thin layer of lettuce and perilla on top of each roll. Finish with a sprinkle of Fried Shallots and serve the Fish Sauce Dressing in a small dish/ jug on the side.