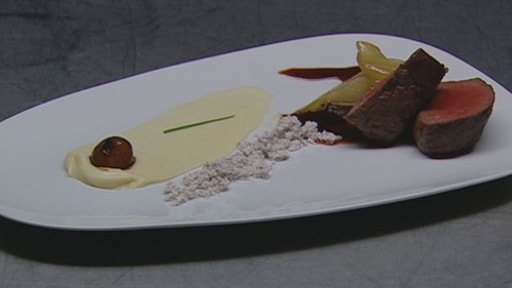 Steps
Preheat the oven to 100°C.
For orange pepper spice, with a citrus zester, remove the zest from oranges in 5cm lengths. Blanch in boiling water for 1 minute and repeat using fresh water. Pat dry on paper towel and place blanched zest on baking paper or a Teflon sheet and dry for 1 hour in the oven until hard. Once thezest is dried, use a pestle and mortar to crush it along with the peppercorns and juniper berries. Sieve mixture, discarding the fine powder and retaining the coarse orange pepper mixture.
For chocolate crumb, melt chocolate in a bain marie. Add the malto powder and mix with a wooden spoon until the malto has absorbed the fat of the cocoa butter, this will create a light fluffy crumb. Add two teaspoons of orange pepper spice and set aside until ready to use.
For parsnip puree, in a solid based saucepan sweat onions and garlic over a low heat until soft, stirring occasionally, ensuring not to colour. Add peeled, cored and sliced parsnips and sweat for 2 minutes. Add milk and simmer until parsnips are very soft. Drain milk and blend the parsnips with cream. Finish with butter and season with salt and pepper to taste. Set aside until required.
For fennel, place fennel, vegetable stock & Pernod in to a vacuum bag and seal under vacuum. Place into a sous vide bath at 85⁰C and leave to cook in the bath for 1 hour 30 minutes. Test to ensure the fennel is soft and tender. Set aside.
To finish fennel, strain fennel from jus and add to a saucepan with butter, pernod and fennel jus. Cook for 2-3 minutes to combine and heat through
For venison, preheat oven to 180°C. Remove venison from the refrigerator but keep covered while it reaches room temperature. Heat olive oil in a large frying pan until simmering, seal the meat, two pieces at a time, until an even caramel colour is achieved on all sides. Transfer the meat to a roasting pan and roast for 9-10 minutes for rare. Once cooked, leave to rest. Pour off any oil left in the pan and reserve
For jus, add the meat juices to the Madeira jus. Add orange and onion salsa and orange pepper spice to the sauce. Keep warm.
For baby onions, combine balsamic vinegar, oil and stock in a saucepan over a medium high heat. Add baby onions and poach for 10-12 minutes or until soft and tender.
To serve, place 50ml of parsnip puree onto each plate and drag a small palette knife through it to create a smear. Place the onion in the centre, slice the meat on an angle and place onto the plate. Place the sous vide fennel next to the meat and finish with a drizzle of sauce and spoonfuls ofchocolate crumb. Serve any additional sauce to the side.
Notes
Preparation and cooking time: 90 minutes