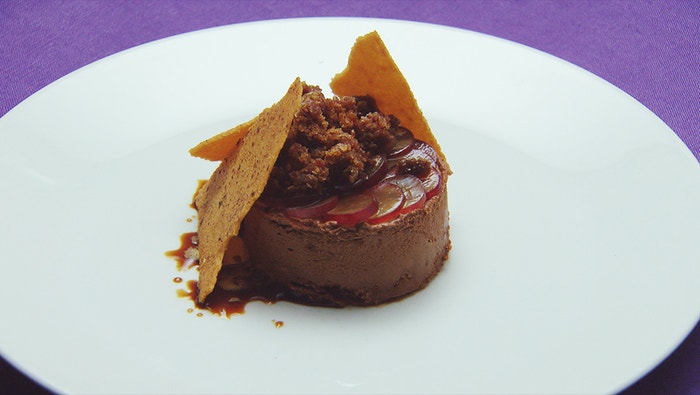 Steps
Preheat oven to 180C.
For the Chocolate Parfait, place the chocolate and 200ml pure cream into a medium bowl and place over a medium saucepan of simmering water. Stir occasionally until the chocolate melts then remove the bowl from the heat and stir until combined. Set aside to cool.
Place the sugar and 100ml water into a small saucepan. Place over medium heat and stir to dissolve the sugar. Brush down the sides of the saucepan with a wet pastry brush to dissolve any sugar crystals. Simmer until temperature reaches 118C.
Meanwhile, place the egg yolks into a medium bowl and whisk with an electric whisk until thick and pale.
Pour the hot sugar syrup into the yolks, continuously whisking until cool. Gently fold into the chocolate mixture and gently mix until combined. Set aside to cool slightly.
Place remaining 600ml pure cream into the bowl of an electric mixer fitted with a whisk attachment and whisk to soft peaks. Fold into the chocolate mixture.
Pour into a lined deep 26cm x 16cm tray and level the surface with an offset spatula. Place into the freezer until firm. Cut six rounds from the parfait using a heated 7cm round cutter. Place onto a lined baking tray and return to the freezer until required.
For the Coffee Granita, bring 200ml water to the boil in a small saucepan. Add the sugar and coffee and stir until dissolved.
Pour into a medium, shallow tray and place into the freezer until fully frozen.
Scrape the surface with a fork to create crystals. Return to the freezer until required.
For the Muscatel Syrup, place the ingredients and 125ml water into a medium saucepan and place over medium heat. Stir often until muscatels are soft and the liquid has reduced to a thick syrup consistency. Remove from the heat.
For the Coffee Tuille, place ingredients into the bowl of a small food processor and process until combined and smooth.
Using an offset spatula, spread the mixture thinly over a lined baking tray. Bake until golden, about 10 minutes.
Remove from the oven and set aside to cool. Break into large shards and set aside in an airtight container until required.
To serve, place Chocolate Parfait onto serving plates. Arrange the grape slices over the top. Drizzle with the Muscatel Syrup and top with Coffee Granita and shards of Coffee Tuille.