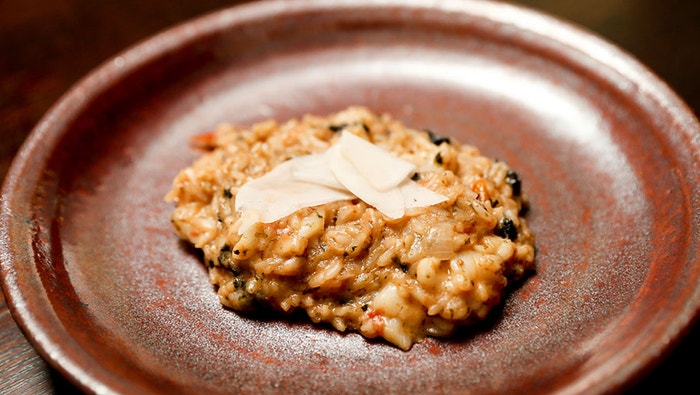 Steps
For the Vegemite Butter, place Vegemite and butter in a bowl and mix with a fork until well combined. Set aside.
For the Pickled Ginger, peel ginger and slice thinly. Place rice vinegar, sugar, salt and 50ml water in a small saucepan and bring to a boil over medium heat. Remove from heat and add ginger. Set aside until cool. Drain well and set aside.
For the Umami Stock, wash the spring onion thoroughly and cut into 5cm lengths. Place all vegetables into a large saucepan and add 2L water. Place over high heat, bring to a boil then reduce heat and allow to simmer for 10 minutes. Remove from heat, strain through a fine sieve into a clean saucepan. Set aside.
For the Risotto, return Umami Stock to medium heat and bring to a simmer. Place oil, onion and garlic in a large saucepan. Set over medium heat and cook until golden and soft, about 8 to 10 minutes. Add rice, and sauté for a further 2 minutes. Add tomatoes and cook for about 5 minutes. Add hot Umami Stock, 100ml at a time, to the rice and cook until absorbed before adding more stock. Continue cooking and adding stock until rice is tender, about a total of 15 – 20 minutes. Remove from heat.
Using a mortar and pestle, crush the nori seaweed and 2 slices Pickled Ginger and add to the rice. Add chopped prawn meat and stir to combine. Season with salt then add 30g Vegemite Butter and stir through. Taste and season with additional Vegemite Butter, and salt, if desired.
To serve, spoon Prawn Risotto onto each serving plate and garnish with extra Picked Ginger.