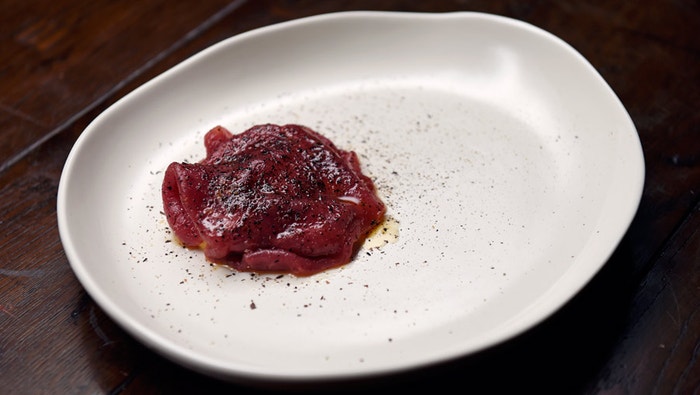 Steps
Preheat oven to 200C
For the Brown Butter Emulsion, place butter into a small saucepan over medium heat and cook until brown but not burnt.
Place egg yolks into a Thermomix jug. Slowly add brown butter whilst Thermomix is running on speed 5 for 6 minutes at 80C until butter has emulsified and turned pale and creamy. Season to taste, transfer to a piping bag and set aside.
For the Veal Carpaccio, butterfly the veal and thinly slice by using a sharp knife. Use a mallet to thin the veal out to 2mm thick. Set aside in the freezer until required.
For the Olive Crumb, line a plate with paper towel. Place olives onto the lined plate and place into the microwave until dry, about 3 minutes.
Remove dried olives from the microwave and transfer to a chopping board. Finely chop into a small crumb and set aside until required.
For the Onion Ash, place onion skin onto a tray and into the oven until blackened, about 10 minutes.
Remove from oven and set aside to cool.
For the Blanched Beans, heat a saucepan of water over high heat and bring to the boil. Meanwhile, prepare a bowl of iced water and set aside. Once boiling, add broad beans and berlotti beans and blanch for 30 seconds. Remove from boiling water and plunge into iced water then strain. Set aside.
To serve, arrange some of the Blanched Beans, pickled onion quarters and zucchini slices in a circular shape on the plate. Pipe some dots of the Brown Butter Emulsion in and around the vegetable pieces then top with a sprinkle of Olive Crumb. Gently push some of the Onion Ash through a sieve to dust over the vegetables. Remove veal piece from freezer and brush lightly with tomato oil then blow torch lightly and place on top of the arranged ingredients to cover completely. Finish with salt and pepper.