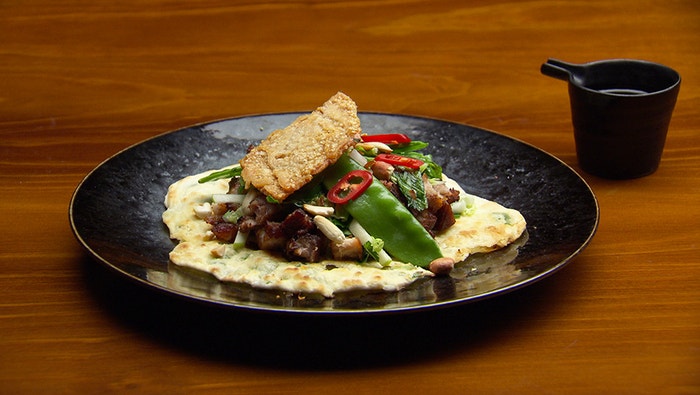 Steps
Preheat oven to 200°C. Turn on deep fryer to 180°C. Turn on pressure cooker.
For the Maple Pork Belly, place ½ cup of the maple syrup along with the remaining ingredients (except for the pork skin) into the pressure cooker and cook on high pressure for 20 minutes. Remove the pork belly pieces from the pressure cooker and place onto paper towel to drain.
Transfer the cooking liquid from the pressure cooker to a medium saucepan along with the remaining ¼ cup maple syrup, then place over a medium heat and cook until reduced slightly, about 12-15 minutes. Strain the sauce through a fine sieve and set aside in a small serving jug for plating, keeping warm.
Add the pork belly pieces to the preheated deep fryer and fry until crisp, about 2-3 minutes.
For the Crispy Pork Skin, remove the excess fat and meat from the skin then place onto a baking tray lined with baking paper. Season the skin well with salt and cover with another sheet of baking paper. Place a second baking tray on top to weigh down. Bake for 30 minutes, then remove the top baking tray and baking paper and place back into the oven to bake until crisp, about a further 15-20 minutes. Remove from the oven and set aside to cool until needed.
For the Maple Vinaigrette, place all ingredients into a small bowl and stir well to combine. Set aside.
For the Salad, place all ingredients into a bowl and mix gently to combine. Cover with cling film and set aside in the fridge until needed.
For the Spring Onion Pancake, combine 100ml of warm water with the flour and salt in a small bowl and mix well to combine. Roll the dough out thinly and press butter and spring onion pieces into the dough, evenly spaced out.
Roll up the pancake firmly into a log then cut into 4 even portions. Lightly flour a bench and sit each portion, flat side down, onto the bench. Roll each portion into a thin round pancake.
Heat a medium fry pan over medium heat. Add pancakes and cook, turning to avoid burning, until cooked through and golden on both sides. Remove from the pan and keep warm.
To serve, place a Spring Onion Pancake onto the serving plate and top with some Maple Pork Belly. Toss the Salad in the Maple Vinaigrette and spoon some on top of the pork. Garnish with red chilli and peanuts and top with a shard of the Crispy Pork Skin. Serve with the jug of sauce on the side.