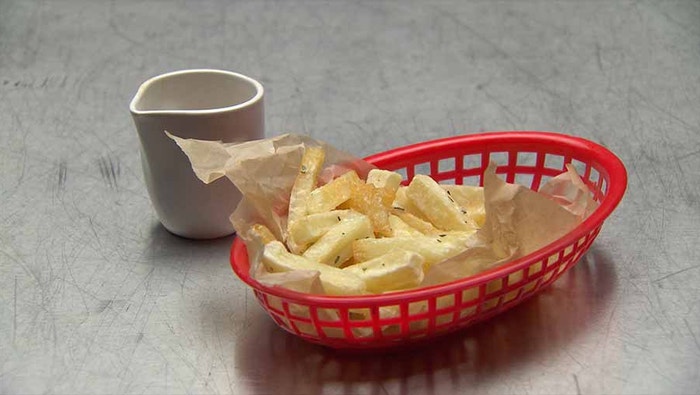 Steps
Preheat oven to 180C. Preheat deep fryer to 180C.
For the Chicken and Rosemary Gravy, heat the rice bran oil in a large stainless steel frying pan over medium heat.
Add chicken pieces and fry, stirring occasionally, until brown. Add carrot and onion and continue to fry until caramelised.
Deglaze pan with the vermouth, followed by the vinegar. Stir and scrape the base of pan with a wooden spoon and continue to cook, stirring occasionally until reduced to a syrup consistency. Add chicken stock then reduce heat to low and simmer until reduced to approximately 150ml, about 15-20 minutes.
Strain liquid through a sieve into a clean small saucepan. Return to the stovetop over a low heat.
Place flour and butter into a small bowl and use a wooden spoon to cream to a smooth consistency. This is the beurre manie that will thicken the gravy.
Add ½ tsp of the beurre manie mixture to the sauce and whisk thoroughly to incorporate. Gradually whisk in more beurre manie mixture until a smooth, thick gravy is achieved. Remove from heat and strain into a serving jug.
Meanwhile, for the Twice Cooked Chips, trim ends off potatoes to square up the ends and cut into 1cm wide lengths.
Place chips into a medium saucepan, fill the saucepan with cold water, ensuring the potatoes are fully submerged. Place the saucepan over medium heat and bring to the boil. Once boiling, boil potatoes until tender, about 15-20 minutes. Drain and spread across large baking tray. Place into the freezer until cool, about 12-15 minutes.
Remove from the freezer. Place chips into the deep fryer and fry until golden brown and crispy, about 12-15 minutes.
Remove chips from the fryer, place into a bowl lined with paper towel and set aside.
For the Rosemary Salt, place rosemary sprigs onto a baking tray and drizzle with olive oil. Place into the oven and roast until lightly browned and crisp, about 8-10 minutes.
Remove from the oven and allow to cool. Once cooled, strip the rosemary leaves into a small bowl and crunch to break up into small pieces. Add salt flakes and mix well to combine.
To serve, line the serving basket with parchment paper. Add Rosemary Salt to the Twice Cooked Chips and toss to coat. Place chips into the lined basket with Chicken and Rosemary gravy in jug on side.