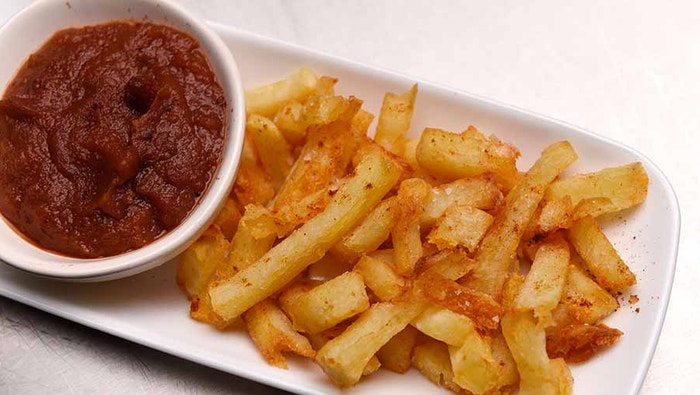 Steps
Preheat oven to 180C. Place a saucepan of water over high heat and bring to a simmer. Turn on deep fryer to 200C.
Once the pot of water has come to a simmer, reduce heat to medium. Add the apples and cook until soft, about 5 minutes. Remove from the heat and drain, reserving 2 tablespoons of the cooking water.
Add vinegar to the saucepan of cooked apple. Use a stick blender to purée the apple until smooth then set aside until needed.
Place passata into a small saucepan and bring to a simmer over low heat. Continue to simmer for 5 minutes, then add the puréed apple and remaining ingredients and continue to cook until thickened and reduced, about 20-25 minutes. Remove from the heat, season to taste and transfer to a serving ramekin.
For the Chips, cut potatoes into chips 1cm x 1cm thick. Place into a roasting pan, then drizzle with olive oil and a generous sprinkle of salt. Toss to coat then top with two sprigs of rosemary and place into the oven to cook until tender, about 35-40 minutes.
Remove from the oven and discard the rosemary.
Carefully transfer potatoes to deep fryer and fry until deep golden and crispy, about 8-10 minutes.
Remove from the fryer and drain on paper towel. Season well with salt and hot paprika then toss to coat. Pile chips on one side of the serving plate. Add the ramekin of the Whisky Sauce to the side of the plate and serve.