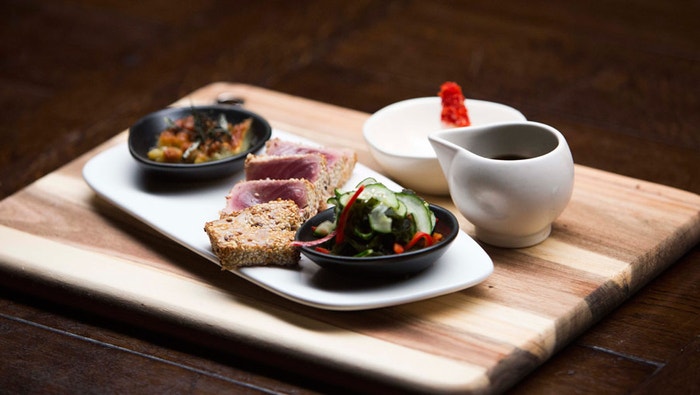 Steps
Preheat oven to 180°C.
For the Chilli Daikon Sauce, combine chillies with 1 tablespoon water in a food processor and process to a fine paste, scraping down sides of bowl as required. Strain through muslin and place into an 8cm cone mould. Press in firmly then add grated daikon and press firmly to remove excess liquid from cone. Invert cone onto a small shallow saucer and set aside.
Combine soy sauce, mirin and wakame in a small saucepan over a low heat until warm and allow the flavours in infuse together. Transfer to a small serving jug.
For the Cucumber Salad, heat red wine vinegar and sugar in a small saucepan and stir until sugar dissolved. Remove from heat and allow to cool. Slice cucumber in half lengthways then scoop out seeds and discard. Finely slice cucumber on mandolin into a medium bowl then sprinkle with salt and set aside for 15 minutes. Rinse cucumber, drain well and place into a bowl. Meanwhile, soak seaweed in warm water for 5 minutes, drain and add to cucumber. Julienne the capsicum and add to cucumber and seaweed. Add cooled vinegar and set aside for 30 minutes.
For the Miso Eggplant, slice eggplant into 1cm thick slices and score each slice in a diamond pattern. Place onto a paper lined baking tray and bake for 15 minutes. Place remaining ingredients in a small bowl, whisk to combine and set aside. Remove eggplant from oven and spread with miso mixture. Return to oven and bake for 12-15 minutes until deep golden brown and cooked through. Remove from oven and set aside.
For the Tuna Tataki, trim the tuna in 4 evenly sized rectangular portions, each measuring approximately 10cm x 4cm x 3cm. Coat each portion in the combined oils then roll in toasted sesame seeds, pressing seeds on firmly.
Place a large non-stick frypan over high heat. Sear tuna portions for 20 seconds on each side. Remove from pan and slice.
To serve, arrange Tuna Tataki on a serving board. To finish the Chilli Daikon Sauce, pour serving jug of soy sauce, mirin and wakame around daikon cone and place on serving board. Drain Cucumber Salad then arrange around tuna, along with Miso Eggplant.