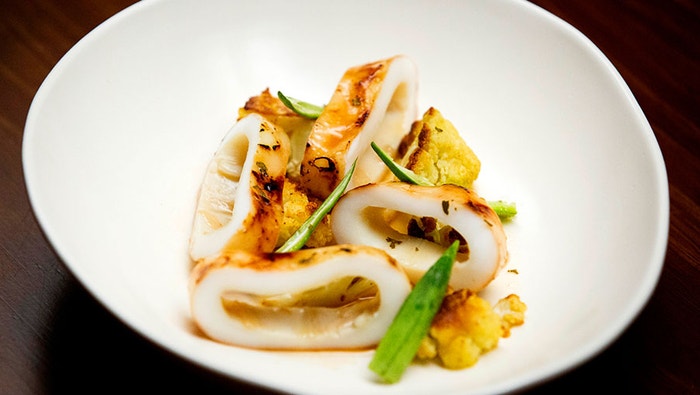 Steps
Heat oven to 200C.
Place calamari into a wide shallow bowl. Add maple syrup and 1 tbsp oil and mix well. Set aside in fridge.
Cut cauliflower into small florets and spread out onto a paper lined baking tray. Melt butter along with lemon myrtle leaves in a small frypan then pour over cauliflower. Season and roast for 20-25 minutes, stirring half way through cooking, until golden. Remove from oven and place lemon myrtle leaves onto kitchen paper to cool. When cool crush leaves and set aside as garnish.
Combine white vinegar, sugar, 3 tbspn water, salt and pepper in a medium bowl and mix with a fork to dissolve sugar. Slice okra thinly on the diagonal and remove seeds. Place into pickling liquid and mix gently.
To cook calamari, heat a frypan over high heat. Add remaining 1 tablespoon oil. Remove calamari from maple syrup and season. Cook calamari for 1 minute, baste with maple syrup then turn and cook other side. Baste with maple syrup. Remove from pan and place onto a baking tray. Use a blowtorch to scorch calamari, moving blowtorch continuously, until browned.
To serve, slice calamari and divide between plates. Top with roasted cauliflower and drained pickled okra.