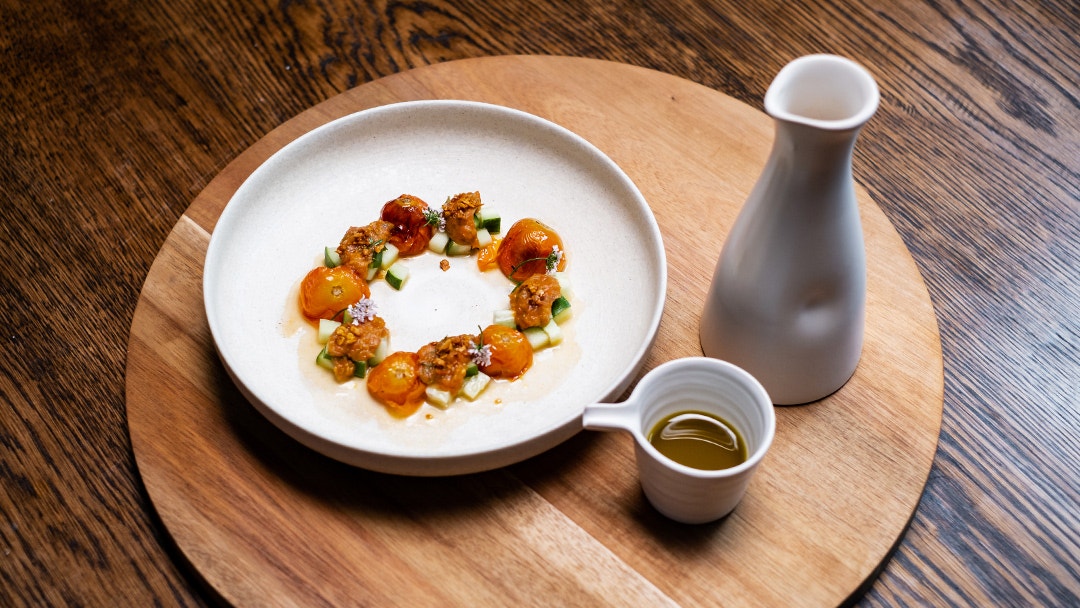 Steps
Preheat oven to 250C.
For the Tomato Salsa, crush garlic in their skins, halve the shallots and scatter over a lined baking tray.
Add chillies, capsicum, tomatoes and the cherry tomatoes on the vine. Generously drizzle with olive oil and a generous amount of salt, toss to coat. Roast until browned, 30-35 minutes. Remove from the oven and set aside to cool.
Reserve the vine cherry tomatoes. Discard the skins from the tomatoes, garlic and shallots. Transfer the flesh along with the remaining roasted ingredients into a food processor and pulse together for 20-30 seconds. Add the siwu tang, lemon juice and coriander leaves and mix ingredients together with a spoon. Season and balance the salsa with salt and sugar to your liking and set aside.
For the Tomato Broth, finely slice the red shallots and roughly chop the garlic. Place a saucepan over medium-high heat. Add a generous drizzle of olive oil. Add the shallots and stir occasionally for 1-2 minutes, then add the garlic and continue to stir the shallots and garlic for another few minutes. Add honey and continue to stir the ingredients together for a minute. Cut the tomatoes into wedges and add to the saucepan along with 250ml water. Simmer for 5-10 minutes on medium heat, stirring occasionally. After 10 minutes, add vinegar and sauerkraut juice and simmer for another 10-15 minutes. Add salt and sugar, a little at a time and after 20-25 minutes of the broth simmering, add gochujang, mountain pepper leaves and lemon juice and simmer for 10-15 minutes. Taste and balance the broth with salt, sugar and extra lemon juice then remove from the heat. Strain through a fine sieve into a clean saucepan and reheat gently when ready to serve.
For the Pickled Cucumber, dice the cucumber into ½ cm cubes and place into a bowl. Add the pickling juice, a teaspoon each of salt and sugar at a time until tangy, slightly sweet and salty in taste. Set aside to pickle for at least 25-30 minutes then drain well to serve.
For the Garlic Oil, finely chop garlic. Place olive oil in a small saucepan over medium to high heat. Once hot, add the chopped garlic and stir occasionally for 3-4 minutes or until the garlic starts to turn a slight golden colour. Remove from the heat and strain, reserving garlic and oil separately and set aside.
To ensemble, place five roasted cherry tomatoes into wide shallow bowls, approximately 2-3cm apart in a circle formation. Spoon pickled cucumber in between tomatoes and top with a teaspoon of tomato salsa and fried garlic. Gently pour warm broth to cover the base of the bowl. Drizzle a little garlic oil over the broth and garnish with coriander flowers.
Notes:
*fresh garlic and honey have been substituted in this recipe to achieve a similar depth of garlic flavour and sweetness to the fermented garlic honey used by Linda during her cook.