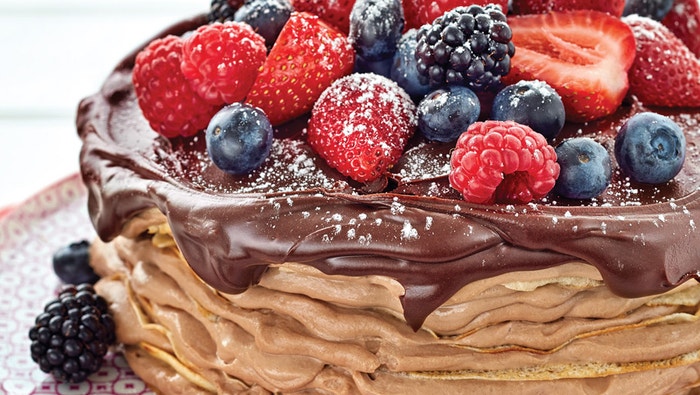 Steps
SIFT the flour, salt and sugar into a bowl, make a well in the centre and whisk in the egg. Whisk in the milk and then the melted butter. Stand for 10 minutes.
HEAT a crêpe pan (20cm) and ladle in 1/4 cup of crêpe batter and swirl to spread batter. Return to heat, after 1 minute lift and flip crêpe and cook for a further minute. Remove crêpe and set aside. Continue with remaining batter until all the crêpes (16-18) have been made.
BEAT the PHILLY and icing sugar until combined, then beat in the Marsala and coffee. Add the cream and milk chocolate and beat until light and fluffy. Chill.
PLACE a crêpe on a serving plate and spread with some of the PHILLY mixture. Top with a crêpe and repeat process until all the crêpes have been layered.
COMBINE 100g of dark chocolate and the extra butter in a saucepan and gently heat, stirring occasionally, until melted and smooth. Add the remaining chocolate and stir to combine. Cool slightly. Pour over crêpe cake and decorate with berries.