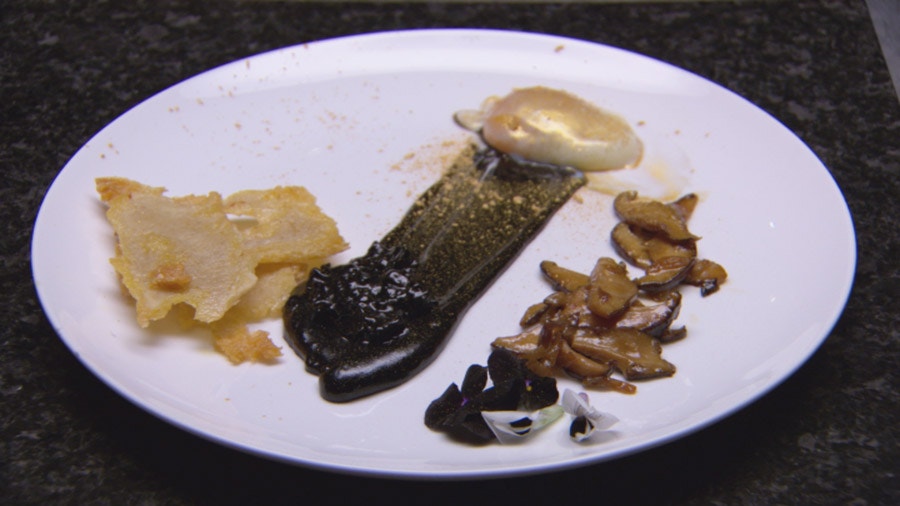 Steps
Preheat oven to 160C and sous vide machine to 62.7 C.
To cook eggs, place eggs in sous vide machine and cook for approximately one hour. Remove from heat and gently crack eggs onto paper towel to tidy up the loose egg whites. Set aside.
To make the sour dough shards, roll each bread slice out thinly between sheets of baking paper. Place slices between two heavy baking trays and place in the oven to bake for an hour. Remove from oven, break into shards and brush with clarified butter. Set aside.
To make the aioli, place egg yolks, mustard, salt and vinegar in a small food processor, with the motor running, slowly add oil until mixture is thick and emulsified. Add food coloring and process to combine. Remove ¼ cup black aioli from food processor and reserve. Add black garlic to remaining aioli and process until combined. Set aside.
To make the shiitake marmalade, place butter in a saucepan and set over low heat to melt. Add shallots and fry, stirring frequently, ,until translucent, about 8 minutes. Add shitake mushrooms and cook, stirring frequently, until moisture is released, about 25 minutes. Add honey, soy sauce and water and cook until sticky and shiny.
To serve, place a brush stroke of reserved black aioli on each serving plate. Add a spoonful of garlic aioli at one end of brush stroke and the egg at the other. Place a small stack of sour dough shards and some shitake mushroom slices to the plate. Garnish with gold powder and black lava sea salt.