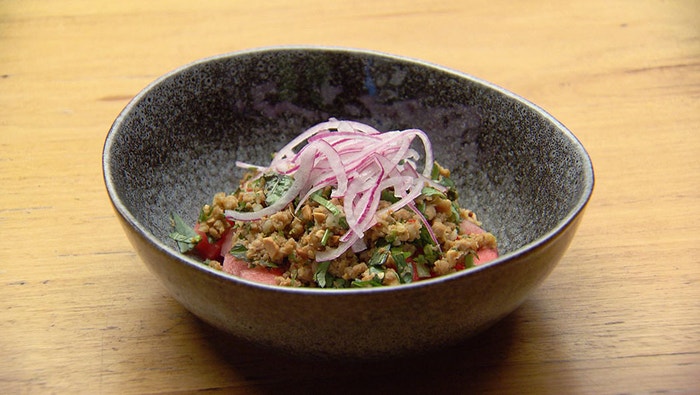 Steps
To prepare the Watermelon Cubes, peel watermelon and cut into 1 cm slices. Cut slices into 1cm cubes. Cover and set aside, in fridge, until serving.
For the Thai Pork, place shallots, garlic, ginger, chillies and coriander roots into a mortar and pestle and grind to a paste.
Place a wok onto a medium heat and add oil. Once hot, add prepared paste to the wok and sauté until fragrant, about 2-3 minutes.
Increase heat to high and add pork mince. Fry until the pork changes colour but doesn't brown, stirring constantly and breaking up any large chunks with a wooden spoon.
Add the water chestnuts, salt and pepper and fry until liquid has almost evaporated, about a further 3 - 5 minutes.
Add fish sauce and palm sugar and fry until the meat mixture caramelises slightly.
Meanwhile, toast peanuts in a small pan over low heat, shaking the pan occasionally, until golden brown all over. Transfer peanuts to a mortar and pestle and roughly crush.
Add peanuts to pork mix and stir through. Remove from heat and set aside to cool slightly. Add coriander and basil and stir through. Season to taste and set aside until serving.
For the Red Onion Vinaigrette, dissolve sugar in 1 tablespoon hot water in a small bowl. Add vinegar and lime juice.
Cut onion in half and using a mandolin, slice onion very thinly.
Place onion into the vinaigrette and leave to infuse for at least 5 minutes. Drain, reserving both vinaigrette and onions.
To serve, divide Watermelon Cubes between 6 serving bowls. Spoon over 1 tablespoon of Red Onion Vinaigrette. Top with a cup of the Thai Pork and garnish with drained red onions.