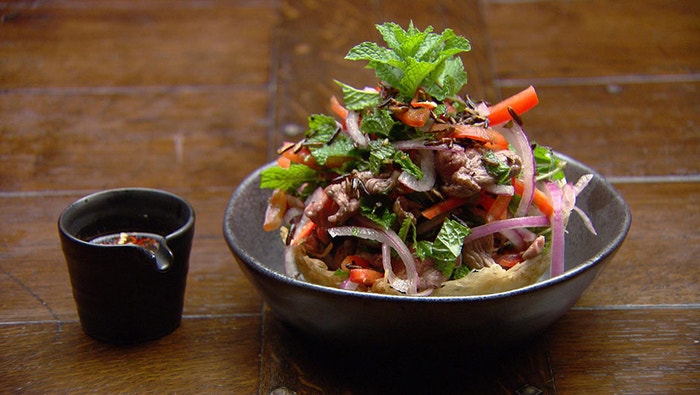 Steps
Fill a wok halfway with vegetable oil.
For the Kataifi Basket, grease 8 small stainless steel bowls by submerging into oil, drain then transfer onto a chopping board to allow excess oil to drain.
For the batter, mix plain flour, cornflour and salt together in a medium bowl. Gradually whisk in 65ml water until the mixture is smooth and resembles thickened cream. Add oil and vinegar and whisk until combined. Transfer mixture to a piping bag and set aside.
Heat a large non stick frypan over medium heat. Lightly oil, wiping any excess oil from frypan with paper towel. Cut tip from the piping bag to create a 1.5mm wide opening. Pipe batter in the shape of a 15cm round spider's web onto the heated pan and allow to cook until set, about 30 - 45 seconds. Remove round and set aside on baking paper. Repeat with remaining batter to make another 3.
Place wok with oil over high heat and heat to 180C.
To assemble the Kataifi Basket, lay one round of cooked batter inside one oiled bowl and top with another oiled bowl, holding pastry in place between the two bowls. Using tongs, gently place the bowls with kataifi round inside on top of the heated oil and carefully scoop oil into the bowl. Fry the basket until golden, about 2-3 minutes. Drain off excess oil and set aside on paper towel, to drain and cool, until serving. Repeat with remaining cooked batter.
Keep the wok over heat and heat oil to 200C.
For the Puffed Wild Rice, place the wild rice in a sieve and submerge into hot oil. Shake gently until the rice starts to rise to the surface of the oil. Continue to cook until rice is puffed, about 1 minute. Remove from oil and set aside, to drain on paper towel, until serving.
For the Beef Salad, place the onion, capsicum and mint into a bowl, toss to combine and set aside until serving.
For the dressing, place lemon juice, fish sauce, chilli and salt in a bowl and whisk to combine. Place palm sugar and ¼ cup of water in a small saucepan. Set over low heat until completely melted. Remove from heat, add to lemon juice mixture and whisk to combine. Set aside until needed.
Place beef, garlic, salt, and pepper in a medium bowl and stir until beef is evenly coated. Heat a large wok or frypan over high heat. Add 1 teaspoon oil and heat until very hot. Add beef, in batches, and stir fry for 30 seconds, adding more oil if necessary. Transfer meat to a bowl. Add half the dressing and toss until well coated. Set aside, keeping warm, until serving. Transfer remaining dressing to a serving jug.
To serve, place Kataifi Baskets into 4 wide shallow serving bowls. Drain excess dressing from beef and place Beef Salad into basket. Top with onion and capsicum mixture, sprinkle with Puffed Wild Rice and top with mint sprigs. Serve remaining salad dressing on the side.