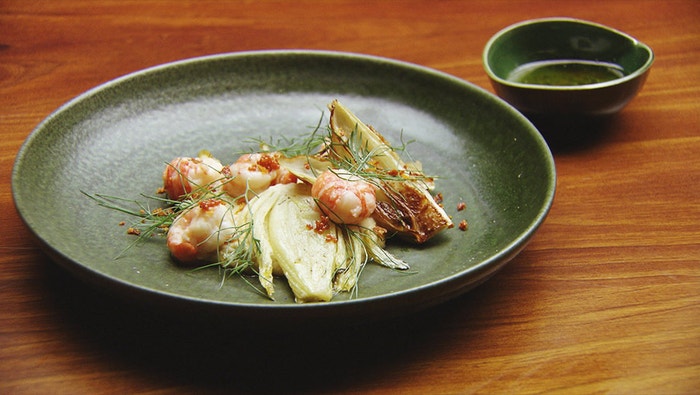 Steps
Preheat oven to 180C.
For the Gastric, place the sugar, vinegar and orange peel into a small saucepan. Slowly bring to the boil, stirring until sugar is completely dissolved. Remove from heat.
Finely slice the fennel stalk on a diagonal and drop the thin slices into the hot gastric. Set aside.
For the Confit Fennel, place ingredients into a small oven safe dish and bake in the oven until tender, about 30 minutes. Remove from the oven, remove fennel and set aside on paper towel.
For the Yabbies Poached in Vanilla Butter, place the butter into a medium saucepan over a low heat.
Add the vanilla bean and seeds and the dill.
Place the yabbies into the butter and poach, turning gently in the butter, until just cooked, about 2 minutes. Remove the yabbies and reserve the butter.
For the Fennel Puree and Roasted Fennel Wedges, peel away any damaged layers from the fennel. Trim the fennel and cut into quarters or sixths depending on size.
Place the wedges in a baking dish and drizzle with the oil. Add the garlic, cut side down along with the reserved candied orange strips and season well. Bake in the oven for 30 minutes. Remove the orange peel, finely chop and set aside for plating. Continue to cook the fennel until tender, a further 10-15 minutes.
Remove 8 roasted wedges and set aside for plating.
Place the remaining fennel in a mini food processor along with the cream, Gastric and vanilla bean butter. Season to taste.
To serve, place the puree in a circle in the centre of each plate. Arrange the roasted fennel wedges and confit fennel on the edge of the puree. Add the yabbies. Scatter some of the candied fennel over the dish. Place some of the roe on the tops of the yabbies. Scatter with the orange crumb. Gently layer dill springs and fennel fronds over the top.