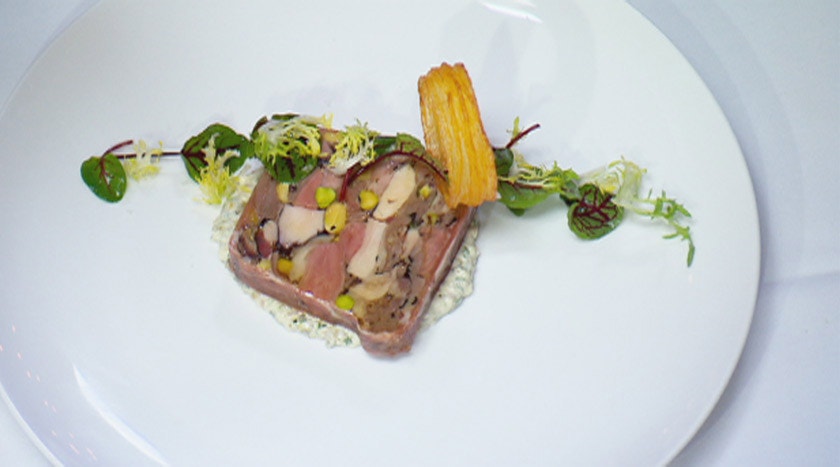 Steps
Aromatic Salt
For the aromatic salt, process ingredients in a food processor until coarsely chopped and well combined. Set aside until needed.
Poultry and Game
For the poultry and game, preheat oven to 140C.
Line a large tray with baking paper and sprinkle with aromatic salt. Place duck and chicken on top, and sprinkle with another layer of salt to cover. Cover with plastic wrap, and refrigerate for 3 hours.
Using a smaller tray, repeat process with pheasant, refrigerating for 90 minutes.
Wash legs well under running water, and discard salt mixture.
Line a wide, deep tray with baking paper. In a single layer, place the chicken and duck legs in tray, skin-side down. Repeat process with pheasant in a smaller tray.
Warm the duck fat in a saucepan set over medium heat. Pour fat over legs, ensuring they are completely submerged, topping up with vegetable oil, if necessary. Cover the surface of meats with baking paper and place a light weight on top, such as a wire rack, to ensure they remain submerged throughout the cooking process.
Place duck and chicken in oven for 3 hours, and pheasant for 90 minutes or until meat is falling off the bone.
Remove from oven and allow to cool for about 30 minutes until cool enough to handle.
Remove legs and place on a tray. Strain fat through a sieve, and store in fridge for another use. Tear meat into large pieces, discarding and bones, cartilage or gristle. Refrigerate meat until needed.
Pork Hocks
For the pork hocks, place hocks in a large saucepan and completely cover with water. Bring to the boil, and skim any impurities that rise to the surface. Add remaining ingredients and a pinch of salt, stirring to combine. Reduce heat to a simmer. Cook hocks for about 3 hours or until meat is falling from the bone. Set aside to cool completely in pan.
Strain through a fine sieve, reserving stock for another use.
Remove skin and bones from hocks and discard. Break up the meat into large pieces. Refrigerate until needed.
Red Wine Eschalots
For the red wine eschalots, place all ingredients in a saucepan. Bring to the boil, then reduce heat to a simmer, and cook until the liquid has evaporated, stirring regularly. Remove and discard thyme, bay leaf and garlic. Stir in oil to combine.
Refrigerate until needed.
Jellied Veal Jus
For the jellied veal jus, place jus into a saucepan set over medium heat and warm through.
Meanwhile, soak gelatine in a bowl of cold water for about 2-3 minutes or until softened. Drain, squeezing out any excess water.
Add gelatine to pan with jus, and stir until dissolved. Transfer to a bowl, and refrigerate until needed.
Terrine
To assemble, grease and line terrine mould with commercial-grade plastic wrap, then line mould with prosciutto slices with about 10cm excess overhanging. Cover a piece of cardboard the size of the mould with plastic wrap, and set aside.
Gently warm jellied veal jus until melted.
Add chicken, duck, pheasant, smoked pork hock, and pork hock to a large bowl. Dress with half of the veal jus, and stir to combine. Add pistachios, red wine onions, mustard, thyme, trompettes, pinch of salt and pepper, and stir well to combine.
Press mixture firmly into mould. Drizzle with remaining jus. Using scissors, trim prosciutto slices at the ends, then fold in slices to enclose terrine. Wrap in plastic wrap. Place cardboard piece on top. Refrigerate terrine overnight, weighing it down with cans or jars.
Potato Ring
For the potato ring, half fill a large saucepan or deep fryer with oil to 180C.
Wrap a 12 x 5cm stainless steel tube with commercial-grade plastic wrap about 15 times. Tie each end with kitchen string.
Top and tail potato. Place in vegetable turning machine, and rotate handle until potato has been sliced into strands. Place the long strands into a bowl, and season with salt. Dust with custard powder, the using your fingertips, shake until potato softens. Squeeze out any excess moisture and pat dry with paper towel.
Tightly wrap potato strands around ring twice about 3cm-wide. Set aside for 1 minute to dry out.
Carefully dip potato ring into oil and cook until golden. Remove and allow to cool slightly. Using a cloth, carefully remove potato ring from tube and set aside. Repeat with remaining potato.
*You can purchase a vegetable turning machine from hospitality and specialty chef stores.
Sauce Gribiche
For the sauce gribiche, combine ingredients in a bowl.
To serve, remove terrine from mould, and cut into 1.5cm-thick slices. Remove plastic wrap. Drizzle with olive oil and spread on slices to coat. Set aside for 30 minutes to come to room temperature.
Spoon sauce gribiche onto plates. Place terrine slice on top, gently pushing down. Place potato ring to the side. Garnish with frisee and red-veined sorrel. Season with sea salt flakes and drizzle with oil.
Notes
Serves: 12 as a starter or as part of a shared meal
*You will need a 1L terrine mould for this recipe. *Start this recipe 2 days in advance.