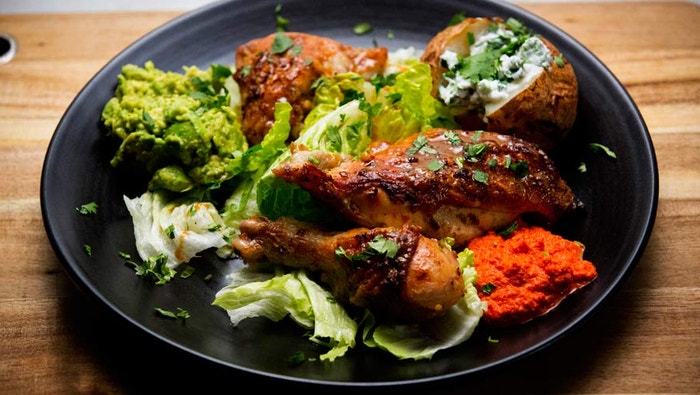 Steps
Preheat oven to 220C.
Place potatoes onto a baking tray lined with baking paper. Pierce several holes into each potato using a skewer. Season with salt and pepper and bake in the oven until soft, about 45 minutes.
Meanwhile, mix coconut yoghurt and chopped coriander together in a bowl until combined. Season with salt, to taste, cover with cling film and set aside in the fridge.
For the Tequila and Lime Chicken, place chicken pieces into a large zip lock bag. Add remaining ingredients and seal bag, pushing out air first. Place onto a tray and into the fridge for 45 minutes. Note: If time permits, leave chicken bag in the fridge to marinate overnight to maximise flavour.
Meanwhile, for the Chilli, Ginger and Garlic sauce, place all ingredients into a bowl and blitz to a puree with a stick blender. Set aside to rest for at least 15 minutes before serving.
Once chicken has marinated, remove chicken pieces from the bag, reserving marinating liquid in the bag. Pour about half of the marinade over the chicken pieces. Place chicken pieces onto a shallow baking tray and place into the oven for 25 minutes.
Remove chicken from oven and pour the remaining marinade over the chicken pieces. Continue to bake until golden brown, about 25-30 minutes. Check that chicken is cooked through and remove from oven. Remove chicken pieces from the baking tray and set aside, keeping warm. Add some boiling water to the baking dish to loosen the pan juices and stir to create a slightly thick sauce. Set aside until required.
To serve, place some torn cos lettuce leaves and a dollop of mashed avocado on the plate. Place two Tequila and Lime Chicken pieces onto a plate and sprinkle with chilli flakes. Place a Baked Potato onto the plate, slice potato open and fill with some of the coriander coconut yoghurt dressing. Dollop some of the Chilli Ginger and Garlic sauce to the side. Drizzle some of the reserved pan juices over the chicken and sprinkle with chopped coriander. Serve with a wedge of lime.