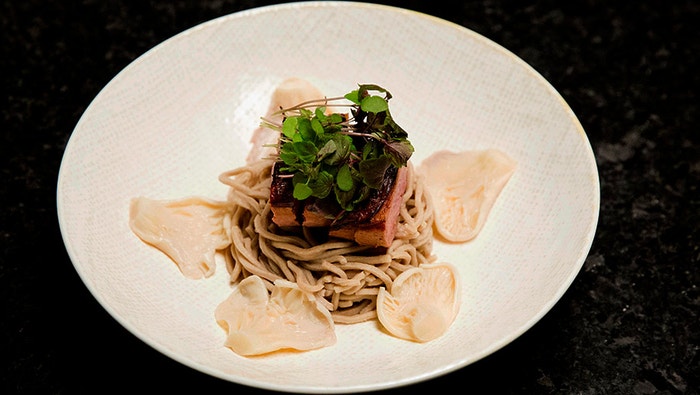 Steps
For the Kaeshi, combine all ingredients in a small saucepan over low heat and bring to a simmer. Continue to simmer gently for 10-15 minutes then remove from heat, discard star anise and set aside until needed.
For the Duck Broth, place duck bones into a large stock pot and fill with enough water to cover the bones. Place onto high heat and bring to the boil. Remove from heat, strain bones and set bones aside until needed.
Meanwhile, heat oil in a large saucepan then add onions, carrots and celery and fry off. Add reserved duck bones and cover with fresh water. Add kombu, shiitake mushrooms and bring to the boil then continue to boil for a further 25 minutes.
Line a conical strainer with 4 layers of muslin cloth and strain broth into a clean bowl. Stir in the reserved Kaeshi and add tamari, to taste.
For the Soba Noodles, fill a large saucepan with water and bring to the boil.
Mix buckwheat and plain flour together in a medium sized bowl. Add 2/3 of the hot water and use fingertips to work the flour until large clumps form. Add remaining 1/3 of the hot water and continue to work until mixture comes together into one large piece. Knead until smooth, about 5 minutes.
Dust a clean surface and rolling pin with tapioca starch. Cut dough in half then roll dough out onto the floured bench to about 3mm thick. Trim to fit width of pasta machine. Set the pasta machine to spaghetti setting and feed the rectangles of dough through to form noodles.
Carefully place half of the noodles into a noodle-cooking basket and lower basket into the saucepan of boiling water. Cook noodles for 40-50 seconds then remove from the boiling water and place into cold water until needed. Repeat with remaining noodles and keep saucepan of boiling water on the heat for later use.
For the Tea Smoked Duck, line a wok with aluminium foil. Place rice, green tea, orange, cinnamon and brown sugar into the lined wok and stir to combine. Sit the inside of a bamboo steamer basket on top then cover with 2 sheets of aluminium foil to seal. Cover wok with lid and place over high heat to allow wok to fill with smoke, about 5 minutes.
Once wok has filled with smoke, work quickly to remove lid and peel back top two sheets of aluminium foil. Place duck breasts into the steamer, skin side up, re-cover with aluminium foil and place lid back on top. Smoke duck for 5 minutes then reduce heat to medium and continue to smoke for a further 5 minutes.
Once duck has smoked, remove lid and top layers of aluminium foil. Heat a medium frypan over high heat and add oil. Pat smoked duck breasts dry with paper towel, season then add smoked duck breasts to the pan, skin side down, and fry for 2-3 minutes. Remove from pan and set aside on a clean chopping board to rest.
For the Blanched Oyster Mushrooms, place a medium saucepan of water over high heat and bring to the boil. Prepare a bowl of iced water.
Once water is boiling, add mushrooms and cook for 1 minute, then remove using a slotted spoon and plunge into the prepared bowl of iced water. Drain well and set aside until required.
To serve, ladle Duck Broth into a teapot/serving jug. Strain noodles then use a fork to twist Soba Noodles into a nest and place into the centre of a shallow bowl. Slice rested Tea Smoked Duck into 1cm thick slices and place on top of the mound of noodles. Arrange Blanched Oyster Mushrooms around the noodles and finish with micro shiso on top of the duck. Pour broth into the bowl just before serving.