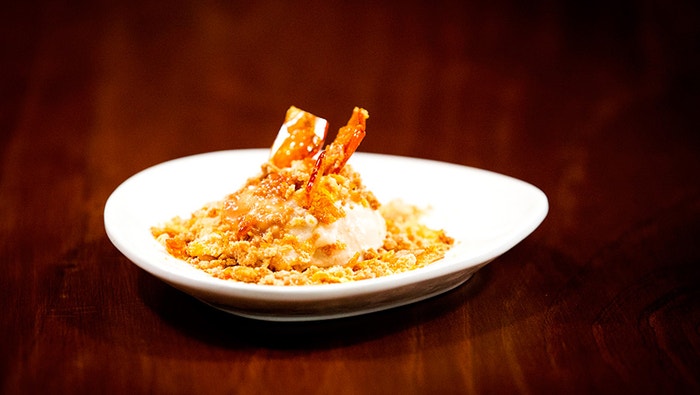 Steps
Preheat oven to 160C. Line a small baking tray with baking paper.
For the Cornflake and Ginger wine Crumble, sift flour and salt into a medium bowl. Add butter and rub into flour with fingertips until mixture resembles coarse breadcrumbs. Add Ginger wine, and sugar and cornflakes and stir well to combine.
Transfer to lined baking tray and bake until golden, about 25-30 minutes. Remove from oven and set side.
For the Tea Infused Parfait, heat a large saucepan of water to 82C. Heat milk in a separate small saucepan to a simmer. Remove milk from heat, add tea and allow to infuse for 10 minutes. Return to heat and simmer for 3-4 minutes until milk thickens.
Meanwhile, whisk egg yolks and sugar together in medium bowl until light in colour. Whisk in strained hot milk and place bowl over the saucepan of hot water. Stir continuously until mixture thickens and coats the back of a spoon
Transfer milk and egg mixture to a stand mixer fitted with a whisk attachment and whisk until cool.
In a separate bowl, beat cream to soft peaks. Fold in the cooled milk egg mixture and transfer to 6 large half dome moulds and freeze until firm.
For the cornflake praline, line a baking tray with baking paper and brush with a small amount of melted butter. Place sugar into a small pan and heat, without stirring until deep golden. Sprinkle with cornflakes and pour onto lined tray. Allow to set, then transfer to small food processor and pulse to rough shards. Set aside.
For the Caramelised Sago Pudding, soak sago in warm water for 10 minutes. Heat milk in a small saucepan over low heat then add soaked sago. Cook for 10 minutes until sago is cooked through.
Meanwhile, heat sugar in a non-stick pan, without stirring, until deep golden. Warm cream in a heatproof bowl in the microwave. Whisk warm cream into caramel, then pour into sago. Stir well and transfer to fridge to cool.
To serve, de-mould parfaits. Scoop out some of the bottom of parfait with a hot teaspoon. Add cold sago into the scooped out section of parfait. Place crumb onto serving plate and top with parfait. Top parfait with remaining sago, crumb and praline.