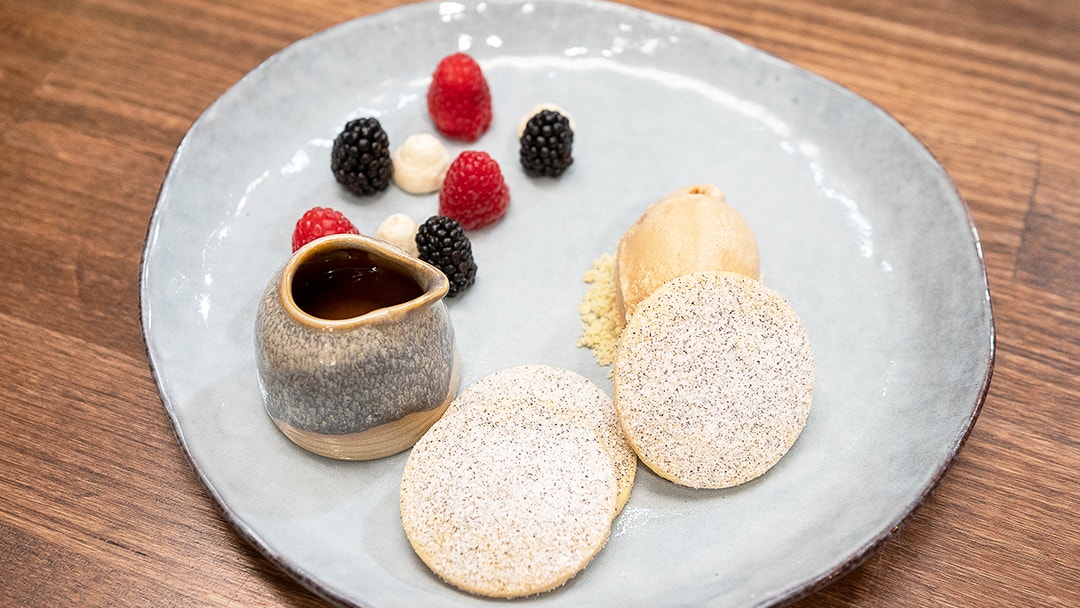 Steps
Prechill ice cream machine and prepare an ice bath. Preheat oven to 160°C.
For the Tea Ice Cream, place milk, tea leaves and sugar into a saucepan. Bring to simmer then remove from heat and infuse for 2 minutes, or longer, to taste.
Add condensed milk, glucose and gelatine and stir to dissolve. Strain through a fine sieve into a bowl set over ice bath. Gently stir until the mixture is cold, then churn in ice cream machine according to manufacturer's instructions. Transfer to a container, cover and place into the freezer until needed.
For the Tea Dusted Shortbread, line a large baking tray with a silicone mat.
Place butter, flour, 125g caster sugar, cornflour and salt into the bowl of a stand mixer fitted with a paddle attachment. Mix on low speed until a dough just comes together. Be careful not to over work dough. Working with ½ of the mixture at a time, roll out on a lightly dusted work surface to a thickness of 3-4 mm. Using a 5cm cutter, cut out circles from the dough and place onto lined baking tray.
Bake until edges of the shortbread are golden, about 20 minutes. Remove from the oven and immediately transfer to a wire rack to cool.
Place remaining 55g sugar and the tea into a mini food processor and process until well combined. Place into a small sieve and dust over the cooled biscuits.
For the Tea Caramel, place the cream and tea into a saucepan and bring to a simmer. Remove from the heat.
In the meantime, place sugar into a small saucepan and allow to gently melt, swirling the pan occasionally until evenly caramelised to an amber colour. Carefully strain the warm cream through a fine sieve into the caramelised sugar and stir vigorously to combine. Reserve 3 tablespoons then pour the remainder into a serving jug.
For the Tea Caramel Cream, place cream into the bowl of a stand mixer and whisk on medium speed, gradually adding the icing sugar, vanilla and tea caramel until soft peaks are formed. Transfer to a piping bag fitted with a 1cm round nozzle and set aside in the fridge until needed.
To serve, crush four shortbread biscuits and divide between the serving plates. Create a well in the centre. Top with a quenelle of ice cream and garnish the side of the plate with a few berries and dots of tea caramel cream. Serve a piece of shortbread leaning to the side of the ice cream and drizzle with the caramel.
Note: store any remaining shortbread in an airtight container