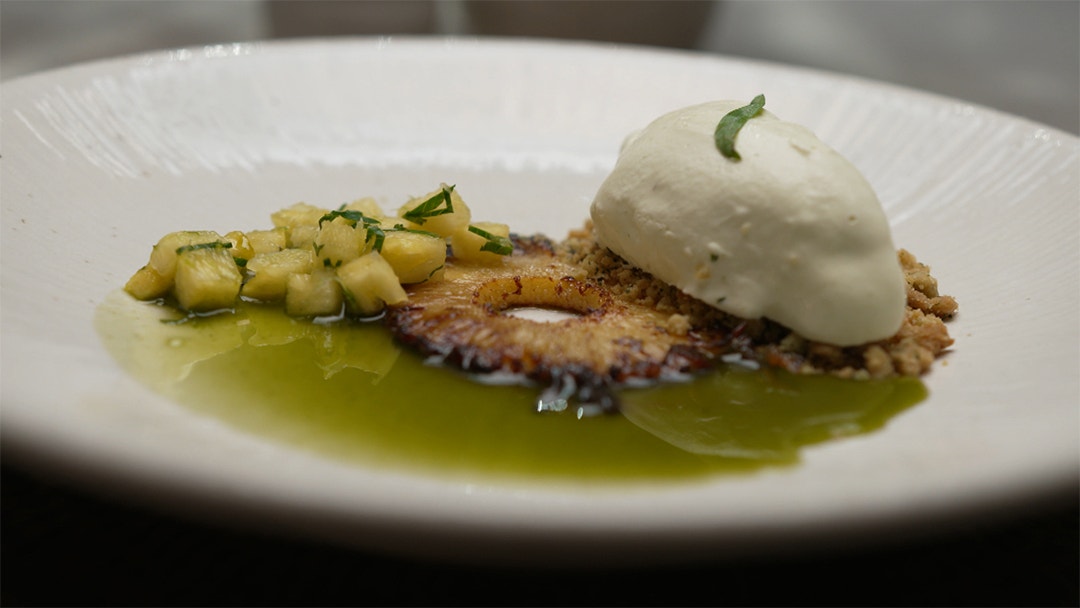 Ingredients
Tarragon and Sour Cream Ice Cream
Steps
Preheat oven to 100oC. Prechill ice cream machine.
For the Tarragon Flavoured Sugar, place all ingredients in a high-speed blender and blend on high to a powder. Set aside in an airtight container.
For the Tarragon and Sour Cream Ice Cream, place tarragon flavoured sugar, sour cream, milk powder, fresh tarragon and a pinch of salt into a blender and blend until combined. Transfer to a bowl and fold cream through.
Pass through a fine sieve then churn in an ice cream machine to a soft serve consistency. Transfer to a cooled container and reserve in the freezer for at least 2 hours to set.
For the Tarragon Crumb, arrange fresh tarragon on a wire rack. Place in the oven until dried, about. 20-25 minutes. Remove from oven and set aside to cool.
Increase oven temperature to 180oC.
Place flour, tarragon flavoured sugar and butter into a bowl. Rub between fingertips to a coarse crumb. Spread mixture over a lined baking tray and bake until golden brown and cooked through, about 12-15 minutes.
Break up with a spatula to create crumbs, mix and return to the oven until evenly browned, a further 5 minutes. Remove from the oven and set aside to cool at room temperature.
Place the dried tarragon in a fine strainer and crush the leaves to form a dust, sprinkling over the crumb. Continue until all the tarragon has been used, then mix well to combine.
Season with salt, to taste. Reserve in an airtight container.
For the Tarragon and Lime Syrup, place water, sugar and 2 tarragon sprigs in a saucepan and bring to a simmer. Stir until sugar dissolves then simmer until a syrup consistency is achieved. Remove from the heat and steep for 30 minutes.
Strain the syrup into a blender and add the remaining tarragon sprigs, the juice of 1 lime and blend, taste and adjust acidity if needed.
Strain again and return to the saucepan, add the arrowroot starch and whisk to incorporate. Bring to the boil and cook for 1 minute.
Strain again, cool, and transfer to a squeeze bottle. Set aside.
For the Caramelised Pineapple, peel pineapple and cut into ½ cm discs. With a small cutter, remove core and using a larger cutter (about 8 cm), trim pineapples into neat circles.
Heat a large pan over medium heat. Add oil and butter and once bubbling, add the pineapple rings and tarragon. Cook until pineapple is caramelised on both sides, about 5-8 minutes. Remove from the pan and cool on a wire rack.
For the Fresh Pineapple Salsa, peel pineapple and cut into 3-4 mm thick slices, avoiding the core, then cut into cubes.
Finely chop tarragon leaves and mix into the pineapple. Season with lime juice to taste and reserve in the fridge.
To serve, remove the ice cream from the freezer to soften slightly. Place a tablespoon of Tarragon Crumb on the side of each plate and top with a quenelle of tarragon sour cream ice cream. Add 1 piece of Caramelised Pineapple, a tablespoon of pineapple salsa and some syrup. Garnish with a tarragon leaf.