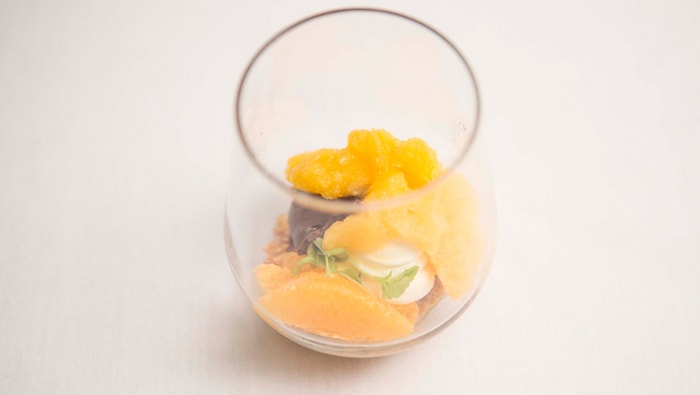 Steps
Preheat oven to 180C.
For the Star Anise Crumb, combine all ingredients in a food processor and blitz to a coarse crumb. Spread evenly onto a baking tray lined with baking paper and bake in the pre-heated oven for 20 minutes.
Remove crumb from oven and break up and turn over on the tray. Reduce oven to 150C and bake for a further 10-15 minutes or until golden brown. Remove from oven and cool on the tray.
Once cool, return the crumb to the food processor and blitz to a fine crumb. Set aside until needed.
For the Tangelo Granita, juice enough tangelos to yield 500ml of tangelo juice. Transfer the juice to a blender and add the glucose syrup and sugar. Pulse until the sugar is dissolved.
Pour the granita mixture into a baking tray and transfer to the freezer to freeze. When mixture begins to freeze, scrape with a fork to break up into crystals. Repeat this process periodically as the mixture freezes until a granita texture is achieved. Keep frozen until ready to serve.
For the Tangelo Segments, remove skin and pith from tangelos and use a small sharp knife to remove segments from between each membrane. Place segments in a medium bowl and add the Grand Marnier. Toss segments well to coat and set aside to marinate until needed.
For the Tangelo Cream, combine the crème fraiche, sour cream, thickened cream and icing sugar into the bowl of an electric mixer fitted with the whisk attachment and whisk until thick. Stir in lime and tangelo juices and beat briefly to incorporate. Place cream mixture into a piping bag and set aside in the fridge until needed.
For the Tangelo Chocolates, combine sugar and tangelo juice in a small bowl and whisk until sugar dissolves. Pass the mixture through a fine sieve to remove any lumps. Spoon the mixture into 3cm silicone dome moulds, place on to a flat tray and freeze until firm.
Meanwhile, place chocolate pieces in a microwave safe bowl and melt in 30 second bursts, stirring, until chocolate has just melted. Set aside to cool.
Once tangelo domes have frozen, pop out of the moulds and carefully dip each into the cooled melted chocolate, allowing excess chocolate to drip off. Place chocolates onto a baking tray lined with baking paper and return to the freezer to set.
To serve, place a spoonful of Star Anise Crumb into the bottom of 10 serving glasses. Add a Tangelo Chocolate to each glass. Cover one half of the Tangelo Chocolate with several spoonsful of the Tangelo Cream. Place 3 Tangelo Segments on the other side of the Tangelo Chocolate. Top with 2 – 3 spoonsful of Tangelo Granita. Garnish with a spring of micro lemon balm leaves.