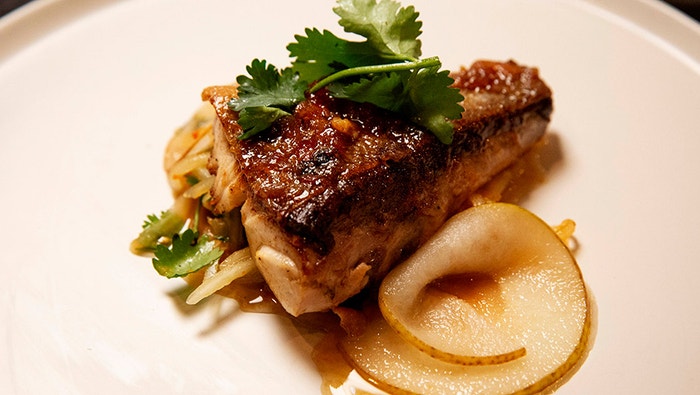 Steps
For the Green Papaya and Mango Salad, place chillies and garlic into a large mortar and pestle or food processor and grind to a paste. Add shallots, tomatoes and sugar and continue to grind until completely incorporated into a paste. Stir in the fish sauce, lime juice and mango pulp. Add the shredded papaya and peanuts and continue to use the mortar and pestle to bruise the papaya and crush the peanuts, grinding and turning the salad over with a spoon. Transfer to a bowl and set aside, in fridge, until serving.
For the Tamarind Chilli Caramel Sauce, place oil in a medium sized saucepan and set over medium heat. Add ginger, chilli and garlic and fry, stirring until fragrant, about 2-3 minutes. Add palm sugar and honey and allow to cook until a syrup forms, about 3-4 minutes. Add tamarind pulp, 80ml water and fish sauce and allow to simmer until sticky and caramelised, about 5 minutes. Remove from heat and stir in lime juice. Set aside, keeping warm, until serving.
For the Nashi Pickle, place the sugar, vinegar and ½ cup water in a small saucepan. Set over medium heat until the sugar has dissolved. Remove from heat and allow to cool completely.
Add the sliced nashi pear to the pickling liquid to lightly pickle the pear slices, about 10 minutes. Remove pear from liquid and set aside until serving.
For the Grilled Kingfish, place a large griddle pan onto a medium nigh heat.
Place grapeseed oil in a large non stick frypan and set over medium-high heat. Place kingfish fillets into the hot pan, skin side down, and fry for 4 minutes. Remove from heat.
Transfer Kingfish fillets to the griddle pan, skin side down, and fry until slightly charred, about 1-2 minutes. Turn the fish over and fry until just cooked through, about 1 more minute. Brush the fish all over with the tamarind chilli caramel then remove from pan.
To serve, place a spoonful of the Tamarind Chilli Caramel into the centre of each serving plate. Remove the Green Papaya and Mango Salad from fridge, stir in the coriander leaves and add to the plate. Place a Kingfish fillet on the salad and garnish with Nashi Pickle and coriander leaves.