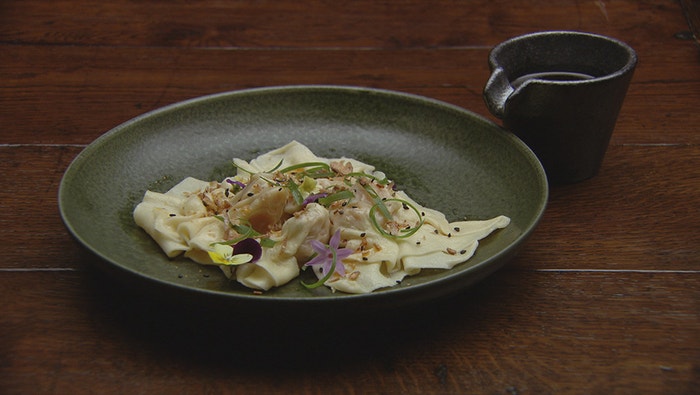 Steps
Preheat oven to 180C. Line a baking tray with baking paper.
For the Szechuan Chilli Oil, place the cinnamon, star anise and peppercorns into a small frypan and place over a medium heat. Cook, stirring regularly, until the spices are toasted and fragrant, about 2 minutes. Remove from the heat.
Place the peanut oil, garlic and ginger into a small saucepan and heat to 80C. Add the toasted whole spices to the peanut oil and infuse over very low heat for 6-7 minutes.
Place the chilli flakes into a medium heatproof bowl. Place a fine sieve over the chilli flakes and pour the hot oil through over the chilli flakes. Set aside to infuse and cool for at least 20 minutes.
For the Szechuan Chilli Vinegar, combine the ingredients in the small bowl and mix until well combined. Transfer to a small serving bowl. Set aside.
For the Sweet Potato Wonton filling, slice the sweet potatoes in half lengthways and microwave on high for 7 minutes.
Rub the sweet potato with olive oil, salt and pepper and bake on the prepared tray until soft and caramelised, about 20 minutes.
Scoop out the flesh and spread out over the baking tray. Return to the oven to dry slightly, about 6 minutes.
Transfer the sweet potato flesh to a medium bowl. Add the spring onion, ginger, 1 tablespoon sesame oil, salt and pepper and mix well until combined. Set aside.
For the Sweet Potato Wonton wrappers, bring a large saucepan of salted water to the boil.
Place the flour and egg into the bowl of a food processor and pulse until crumbly. Slowly add 2 tablespoons water and process until a dough forms.
Transfer the dough onto a lightly floured bench and knead until soft and smooth.
Wrap in cling film and set aside for 20 minutes.
Dust a clean bench with flour. Working with a quarter of the dough at a time, pass the dough through a pasta machine until the second thinnest setting. Lay the sheet onto a floured bench. Repeat with remaining portions.
Cut the dough into 24 large squares. Place 1 tablespoon of sweet potato filling into the middle of each square and gather the dough around the filling, bunching in the centre to form large wontons.
Cook the wontons in the boiling water, in batches, until the dough in the centre of the wontons is cooked through, about 4-5 minutes.
Remove wontons from the water with a slotted spoon and place into a bowl. Drizzle with remaining sesame oil and toss the wontons gently.
To serve, arrange the Sweet Potato Wontons in a large serving bowl or individual bowls. Top with a sprinkling of sesame seeds, crispy shallots, sesame oil, a few drops of Szechuan Chilli Oil, spring onions and flowers. Serve with the Szechuan Chilli Vinegar on the side.